Lattice Account Prioritization and Prospect Discovery for B2B Marketing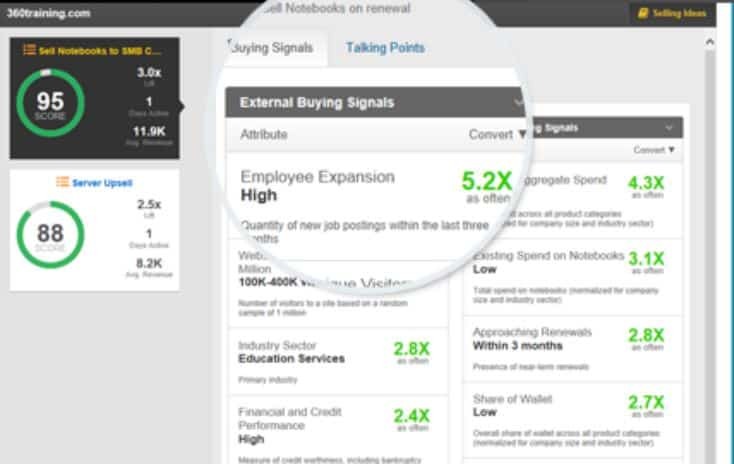 Lattice Account Prioritization and Prospect Discovery for B2B Marketing : Lattice Account Prioritization is built to support the shift in B2B marketing towards account-based marketing tactics, the application enables marketers to leverage predictive analytics to segment and target the right accounts in their campaigns and develop personalized messages that resonate with buyers. At the same time, sales teams can use predictive account scores and intent-based buying signals to prioritize their outbound calling efforts on known prospects most likely to close. The application goes beyond predictive lead scoring for inbound leads – which typically make up only a fraction of accounts in a marketer's database – by leveraging external fit and intent data to score "dormant" accounts, purchased account lists, etc. that marketers otherwise have little information on or have not engaged with previously.
"Companies employing account-based marketing tactics and outbound prospecting can now leverage predictions to prioritize and focus their efforts on identified prospects most likely to convert. With the combination of intent, fit and behavior data, Lattice provides the best predictions about which prospects will turn into customers and what attributes make for an ideal prospect," says Shashi Upadhyay, CEO of Lattice Engines. "From prospect to lead to customer, Lattice provides a suite of apps for the entire revenue funnel enabling companies to predict who will buy, what they will buy and when."
Lattice Account Prioritization combines billions of intent signals with company fit and firmographic data and applies advanced machine learning to score a prospect based on likelihood to convert and to identify the underlying predictors of conversion.Sales teams can use this data within their CRM application to prioritize their outbound calling efforts and guide their customer conversations. One client used the new capability to help reps prospect smarter by calling on accounts most likely to convert – ultimately seeing a 20 percent increase in overall win rates.
Key features of the application include account scores and buying signals based on a combination of billions of rows of intent and company profile data, drag and drop Segment Builder and Predictive Insights Dashboard for segmentation and precise targeting based on thousands of account-level attributes and buyer Insights for Sales CRM plug-in that enables sales teams to prioritize their outbound calling efforts and guide their customer conversations.
Lattice Prospect Discovery combines the power of predictive analytics with intent data to provide a feed of high quality net new leads. With Prospect Discovery, businesses can improve campaign engagement rates by 40 percent, and outbound sales productivity by 25 percent.Lattice tracks thousands of data points on millions of companies including intent indicators for each company. Prospect Discovery taps into this data to provide high quality net new leads filtered on custom criteria:
1. Who is most likely to do business with me (Fit criteria) – e.g. give me companies with more than 500 employees using marketing automation systems from Brand A and Brand B.
2. Who is actually in market for a solution (Intent criteria) – e.g. give me companies who have indicated interest in "mobile computing" in the past 24 hours.
Prospect Discovery is fully integrated with marketing automation and CRM platforms, to optimize outbound communications. For example, marketers using Eloqua can add these scored leads to their nurture programs right from within the Eloqua campaign canvas.Companies using Prospect Discovery benefit by getting high quality, net new prospects that closely match their ideal customer and are actively looking for a solution. Specifically, marketers are able to increase campaign ROI and response rates by focusing on higher quality prospects. Sales can improve outbound sales productivity by working prospects who are actually in market for a solution.
You may also like to read, Predictive Analytics Free Software, Top Predictive Analytics Software, Predictive Analytics Software API, Top Free Data Mining Software, Top Data Mining Software,and Data Ingestion Tools.
Top Predictive Lead Scoring Software, Top Artificial Intelligence Platforms, Top Predictive Pricing Platforms,and Top Artificial Neural Network Software, and Customer Churn, Renew, Upsell, Cross Sell Software Tools
More Information on Predictive Analysis Process
For more information of predictive analytics process, please review the overview of each components in the predictive analytics process: data collection (data mining), data analysis, statistical analysis, predictive modeling and predictive model deployment.