La Caserita Increases Productivity with JDA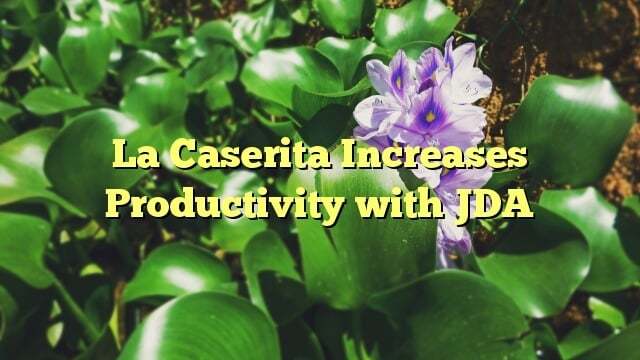 La Caserita, a major wholesale distribution company in Chile, selected JDA Warehouse Management, JDA Labor Management and JDA Transportation Modeler, to support its dramatic growth, while optimizing warehousing and distribution processes. With almost 30 years in the wholesale market, La Caserita, has nine locations and a distribution center in the city of Santiago, Chile's capital, as well as presence in other cities such as: Iquique; Coquimbo; Copiapo; Ovalle; Valparaiso; Valdivia and Puerto Montt. La Caserita is committed to helping smaller retailers grow their businesses by focusing on supply chain efficiency and productivity while offering competitive prices. La Caserita selected JDA Warehouse Management, including its labor management module, to increase the productivity of the Receipt, Putaway and Picking processes in its warehouse while having an online view of inventories. Additionally, by leveraging JDA Transportation Modeler, La Caserita will be able to better manage freight costs.
The implementation will be driven by JDA technology alliance partner STG Chile, who has strong industry expertise deploying JDA Warehouse Management in the region.
"We selected JDA to meet our needs as it is a proven solution that incorporates industry best practices and has the scalability that will meet our future growth plans. Working with JDA and STG Chile as our local partner to help with the implementation, we are confident that this project will be a success," said Cristobal Rivas-Struke, general manager of La Caserita.
"I've had experience with other WMS solutions in the market, and while they all solve warehousing problems, we were looking for a partner that will guide us through the process, and one that is capable of expanding our solution footprint in the future," said Manuel Cofré, supply chain manager at La Caserita. "We look forward to working with JDA on this project, helping us take the lead in the dynamic and demanding market we are trying to service."
"We are very pleased the La Caserita selected JDA to support its continued growth in the Chilean market. The La Caserita team had experience with other warehouse solutions and had a very detailed list of requirements. We were delighted that, after detailed analysis, customer references and demonstrations they selected JDA. With direct presence in the Chilean market for more than 20 years, it is a pleasure to add another leading company as a customer in the Chilean market," said Antonio Boccalandro, group vice president, sales for Latin America.