Kognitio True In-Memory advanced analytical platform for insight from Big Data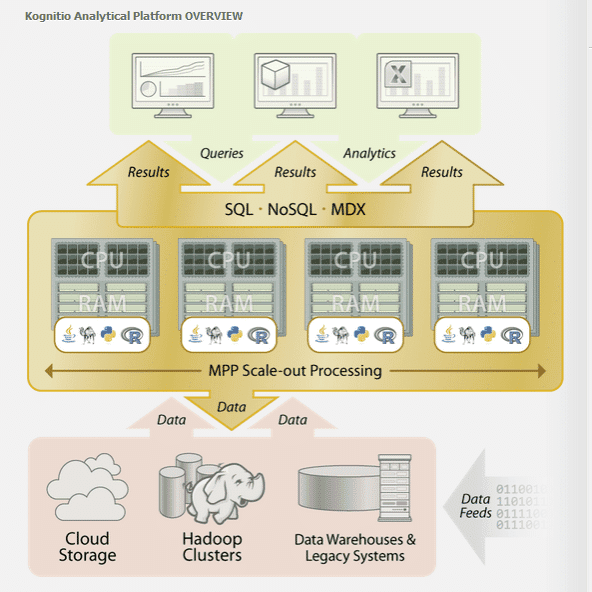 Kognitio True In-Memory advanced analytical platform for insight from Big Data : Kognitio delivers a True In-Memory advantage to companies, providing them with the ability to rapidly perform in-depth advanced analytics against massive amounts of Big Data. True In-Memory enables firms to enhance the insights gained from data extracted from a variety of locations, then optimized and pinned into multiple terabytes of memory. The result is greater, more rapid results from Big Data sets. Taking this power one leap further, the Kognitio Analytical Platform allows data scientists and business analysts alike to use industry-standard SQL alongside any standard programming language and interact with data from Hadoop, as well as conventional data systems in their infrastructure in near-real time. Kognitio Analytical Platform features more than a dozen high-performance, high-throughput improvements.
Partitioned images, users can speed up workloads dominated by query scan time, further enhancing Kognitio performance against both simple and complex analytic queries, Performance optimizations like fast group-by, large-string tokenization. Presorted images Improved compression ratio for in-memory compressed images and Enhancements to the Platform's massively parallel processing (MPP) in-memory code execution capabilities, such as improved security and improved metadata to enrich the information passed to external scripts.
True In-Memory gives the Kognitio Analytical Platform a performance advantage over competing products that claim to be able to perform the same functions. "Simply placing data into memory does not automatically turn a product into an in-memory technology," said Roger Gaskell, chief technology officer at Kognitio. "Systems designed to originally run against disk-based data will have an architecture that has been dictated by slow data access speeds… By contrast, systems designed from scratch to work with data held in-memory are not constrained by data access speeds and adopt a fundamentally different design philosophy. The ability to truly leverage the power of random access within memory in a massively parallel processing environment gives Kognitio users a speed benefit in obtaining answers, even as it requires as many as 100 times fewer CPU cycles to perform a given operation. That translates into a significant marketplace advantage," he added.
Gaskell also noted that Kognitio pioneered the in-memory approach more than 20 years ago, and has leveraged that knowledge to deliver greater "scale out" capabilities, enabling users to run Kognitio across hundreds of servers simultaneously, each with dozens of cores being utilized at full capacity. This, he said, will prove to be an even greater advantage as Hadoop is adopted by more companies worldwide.