KNIME Analytics Platform 3.1 available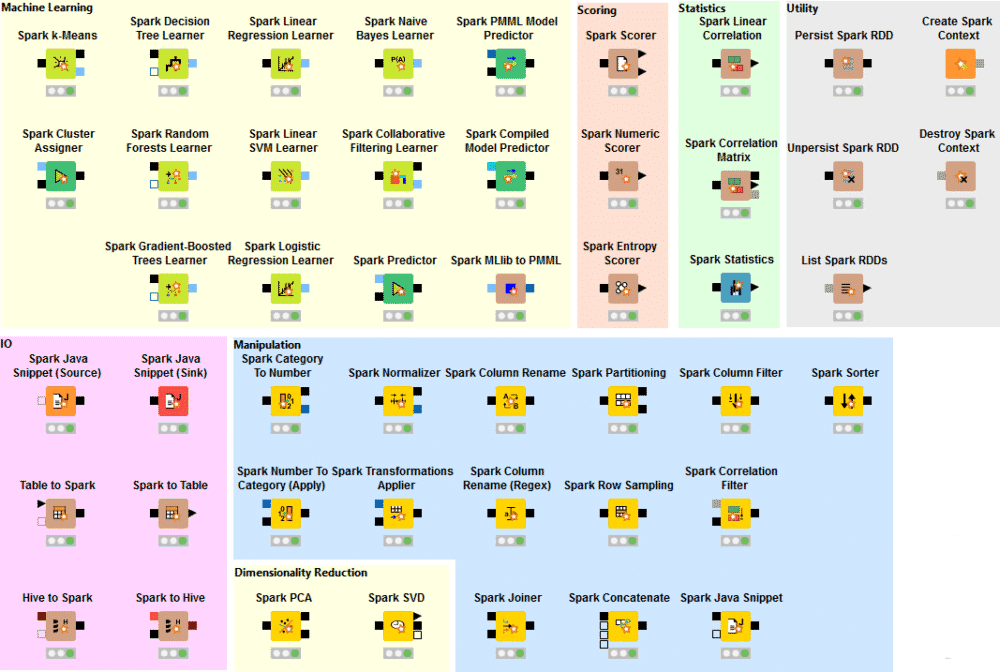 KNIME Analytics Platform 3.1 available : KNIME Analytics Platform v3.1 is a great leap forward in terms of its new interface design, compatibility with Eclipse 4.5 and Java 8. A simplified version of the Tree Ensemble node has been implemented.The Random Forest node implements a Tree Ensemble node with column sampling as the root square of the original number of columns and bootstrapping with replacement over all data rows. The configuration dialog allows to set the number of models, the depth of the trees, and the minimum node size in the trees. KNIME Spark Executor v1.3 extends the KNIME Big Data Connectors enabling customers to create and run Spark applications within either KNIME Analytics Platform or KNIME Server. The new nodes offer seamless easy-to-use data mining, scoring, statistics, data manipulation and data import/export on Spark within the KNIME software
KNIME Personal Productivity v3.1 is now enhanced with WorkflowDiff facilitating productivity. A specialized algorithm conducts comparisons to identify and highlight any changes in the selected workflows. KNIME Spark Executor v1.3 extends the KNIME Big Data Connectors v1.3 so that Spark applications can be run within KNIME Analytics Platform or KNIME Server. The new node set for seamless data mining, scoring, statistics, data manipulation and data import & export on Spark within KNIME.
KNIME Cloud Server v1.0 with this new server on demand, analytics can be scaled as and when required. Share data, workflows and metanodes and run workflows remotely to free up local resources for other tasks.
KNIME Server v4.2 augments KNIME's flagship collaboration product with new advanced job scheduling and enhanced RESTful support.
You may also like to read, Predictive Analytics Free Software, Top Predictive Analytics Software, Predictive Analytics Software API, Top Free Data Mining Software, Top Data Mining Software,and Data Ingestion Tools.
Top Predictive Lead Scoring Software, Top Artificial Intelligence Platforms, Top Predictive Pricing Platforms,and Top Artificial Neural Network Software, and Customer Churn, Renew, Upsell, Cross Sell Software Tools
More Information on Predictive Analysis Process
For more information of predictive analytics process, please review the overview of each components in the predictive analytics process: data collection (data mining), data analysis, statistical analysis, predictive modeling and predictive model deployment.