Review
Kira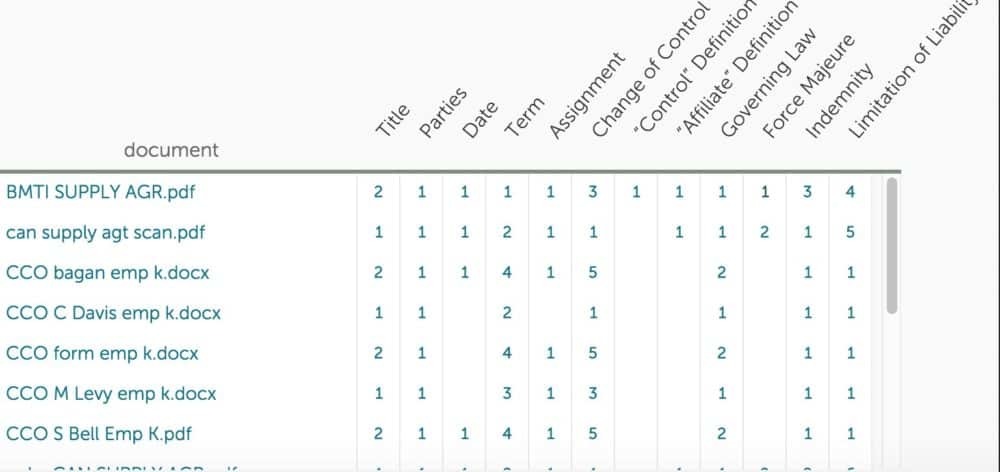 Overview
Kira, machine learning artificial intelligence, excels at searching and analyzing contract and other relevant document text. Uncover, extract and organize crucial information from unstructured documents with Kira.
Contract Lifecycle Management Software
Unlimited Users
Unlimited Training
API Access
Intralinks Integration
Technical Troubleshooting Assistance
Contact for pricing information.
Small (<50 employees), Medium (50 to 1000 Enterprise (>1001 employees)
Kira is a machine learning artificial intelligence that excels at searching and analyzing contract and other relevant document text. It offers one Kira platform, multiple use cases, due diligence, contract analysis, lease abstraction and more. Kira makes powerful machine learning artificial intelligence accessible to everyone, through an intuitive user interface that features real-time collaboration and flexible project management.
Users will be able to import files in any of over 60 formats. Users can drag-and-drop, upload entire directories or zip files, import from Intralinks or via the Kira API. Kira automatically converts files into machine readable form, and then uses machine learning models to identify the concepts and clauses the every users specify. Lots of built-in provisions are available, or users can easily use Kira Quick Study to add their own.
Kira also provides an on-screen editing and workflow tools that makes it easy for users to refine results. Kira's powerful search and analysis tools enable its users to spot issues and trends across documents. Easily compare across documents to spot hidden risks. Aside from this, be able to create and export custom summary charts and summaries for almost any data point, this feature makes it possible to users to easily share results with colleagues and clients.
Kira is available with a large number of pre-built machine learning models for common contract review tasks such as due diligence, general commercial compliance, lease abstraction, ISDA schedules, and more. Or, create custom provisions using Kira Quick Study.
When it comes to security, Kira's security measures are similar or better than that of many secure online collaboration services. All of its server hosting facilities have: SOC 1 type I (SSAE 16 and ISAE 3402) and SOC 2 type I certifications; multiple backup protections; failsafe power management systems; 24x7x365 CCTV monitored security, perimeter fencing with automatic gates, interior and exterior hi-res cameras, biometric scanned entry; and advanced environment controls.
You may like to read: Top Contract Lifecycle Management Software, Top Free Contract Management Software and How to Select the Best Contract Lifecycle Management Software for Your Business