Review
Jive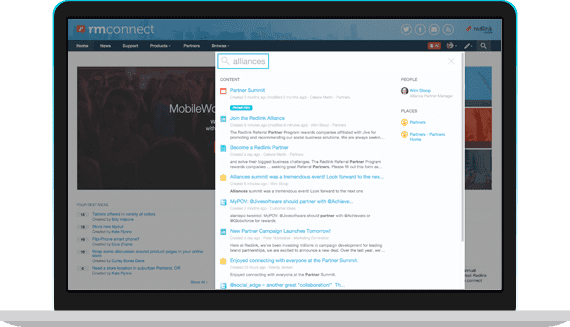 Overview
Inside companies, Jive-powered enterprise networks dramatically improve employee productivity, alignment and innovation. Externally, Jive supports vibrant customer and partner communities that drive higher sales, better service and greater satisfaction.
Online Collaboration Software
•Impact metrics.
•Smart recommendations.
•Advanced gamification module.
•Shared communication portal.
•Detailed user communication activity data
Small (<50 employees), Medium (50 to 1000 Enterprise (>1000 employees)
What is best?
•Enterprise social network.
•Reporting and performance insights.
•Activity streams.
•Document collaboration.
• A complete out-of-the box intranet portal, easy to set up and launch.
• High-impact corporate communications: personalized news streams, executive blogs, videos and more.
What are the benefits?
• Pre-built social software platform integrations for Salesforce, Google, Microsoft SharePoint, Office 365 and many more.
• Consumer-style mobile intranet apps keep workers connected on the go.
• Go beyond knowledge base software with personalized experiences and authentic conversations that foster lasting loyalty.
• Deliver better service and slash customer support costs with industry-best case deflection.
• Gain critical insight with advanced customer engagement analytics and sentiment analysis tools.
Jive is the leading provider of modern communication and collaboration solutions for business. The products apply powerful technology that helps employees, partners and customers work better together.
The various communication tools which are offered by Jive include a searchable employee directory to locate people by expertise, skill and reputation. Jive also offers the ability to create blog posts to share knowledge. Further enterprise social networking tools offered by Jive include live activity streams, groups and discussions. It can be used to assign tasks to coordinate with documents, groups and discussions; and also to see all project information from one place, including stakeholders, key assets and deadlines.
The additional functions include: Jive inbox for all streams incl. Facebook, Chatter, Yammer, activity streams, document collaboration, impact metrics, smart recommendations, advanced gamification module, shared communication portal, creating company blogs, post onboarding and benefits info and demo videos, asking questions and give feedback, employee directory, enterprise-wide content and people search, department specific portams, detailed user communication activity data, enterprise social network, reporting and performance insights, task management, real-time chat and private messaging and 3rd party integrations with Office, SharePoint, Salesforce etc.
Jive can also be used to not only deliver messages but it also allows the sender to see if they have had the desired effects and so forth. In addition, Jive offers its users the option to chat with online users, invite people into a private discussion and then even turn this discussion into a sharable document. Jive integrates with a number of apps including Outlook, Office, SharePoint, Salesforce, Box, Evernote, email and any web-based app. Jive's Advanced Gamification Module allows users to create personalized experiences with missions, competitions, badges and rewards.
You may like to read: Top Collaboration Software and How to Select the Best Collaboration Software for Your Business