JDA Retail.Me offers shopper segmentation and localized assortment recommendations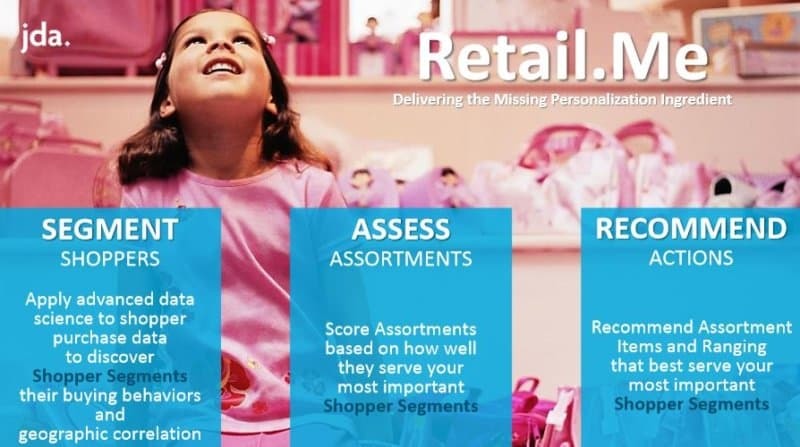 JDA Retail.Me : JDA Retail.Me, is a comprehensive services offering that provides retailers with sophisticated shopper segmentation and localized assortment recommendations to expand sales and increase customer satisfaction. Today's consumers demand a consistent brand experience across all touch points, requiring retailers to have personalized knowledge of their shoppers to deliver the right offer – product, price, fulfillment method – across all channels at the moment a purchasing decision is made. JDA's Retail.Me offering combines the art that comes from decades of retail experience with the science in JDA's cutting-edge solutions to provide this insight, delivering increased profits and margins to the retailer.
Taking POS data and applying leading analytics tuned for big data, Retail.Me provides planners and buyers with deeper understanding of shopper purchasing behavior, assortment performance at the shopper segment level and rich assortment recommendations to deliver personalized offers. JDA's customers can rapidly launch this offering to take advantage of JDA's deep strategic retail expertise and realize significant benefits.
At JDA, we're fearless leaders. We're the leading provider of end-to-end, integrated retail and supply chain planning and execution solutions for more than 4,000 customers worldwide. Our unique solutions empower our clients to achieve more by optimizing costs, increasing revenue and reducing time to value so they can always deliver on their customer promises.
"The explosion of omni-channel commerce has inundated retailers with change and uncertainty driven by the empowered customers they serve – their new boss," said Anand Medepalli, vice president of retail planning product strategy at JDA. "With Retail.Me retailers can very rapidly take back control with a much deeper understanding and segmentation of their shoppers. This gives retailers the confidence to make shopper-centric assortment and offer decisions knowing that they are using a blend of art from decades of retail experience and science from cutting edge big data analytics."
Retail.Me is a software-as-a-service consulting offering that takes full advantage of JDA's industry leading software solutions. JDA's Retail Planning solutions, spanning from demand planning to space optimization, combined with new analytic capabilities, enable JDA experts to use innovative yet proven tools to analyze POS data, segment shoppers, assort to the shopper segments and provide intelligent recommendations back to the retailer.