JDA Planogram Generator Client (myPG) Automated Planogram Generation to Individual Users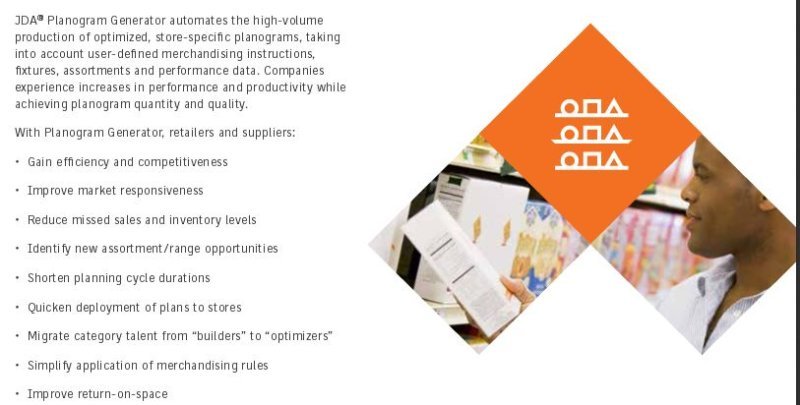 JDA Planogram Generator Client (myPG) Automated Planogram Generation to Individual Users : In today's increasingly crowded, omni-channel marketplace, retailers and manufacturers can win by creating highly customized space plans that cater to local customer needs. Having the right product mix available — even in a very limited space — reduces stockouts, cuts inventory costs, improves shopper satisfaction and maximizes margins. However, scaling to the high volume of planograms necessary to achieve localization can typically lead to additional headcount and compromised quality.
JDA Software Group, Inc., has created a new single-user software solution called JDA Planogram Generator Client — or myPG — which delivers the automated space planning capabilities of JDA Planogram Generator Enterprise in a client version. Like the industry-leading JDA Planogram Generator Enterprise, myPG from JDA automatically creates large numbers of optimized, store-specific planograms, taking into account user-defined merchandising instructions, fixtures, assortments and performance data. In a single batch effort, high volumes of planograms can be quickly produced and distributed, freeing planners to focus on category analysis, studying market trends and other activities that have a strategic impact.
"JDA Planogram Generator Enterprise enables the automation of high-volume planogram production at leading retailer and consumer goods companies around the world. With myPG, we're bringing automation to single planners, enabling them to improve both quantity and quality, said David Johnston, SVP of Global Industry Strategies, JDA. With the launch of myPG, JDA's Space Planning customers can leverage the power of automated planogram generation, without purchasing a full enterprise license or incurring implementation costs."
myPG is built on the proven capabilities of JDA Planogram Generator, which is used by the world's leading retailers and consumer goods manufacturers. This new client version provides users with the flexibility to create a large number of localized space plans — then quickly and easily update those plans as market conditions change.
"As competition increases, retailers and manufacturers are challenged to drive maximum profitability out of their very limited shelf space," added Johnston. "By considering both the top-level merchandising strategy and the needs of local shoppers, myPG can help maximize both cash-register sales and profit margins. This powerful new tool ensures that consumers will find what they are looking for when they enter their local store, which is essential to success in today's omni-channel world."