JDA Manufacturing Planning Streamline Profitable Production Scheduling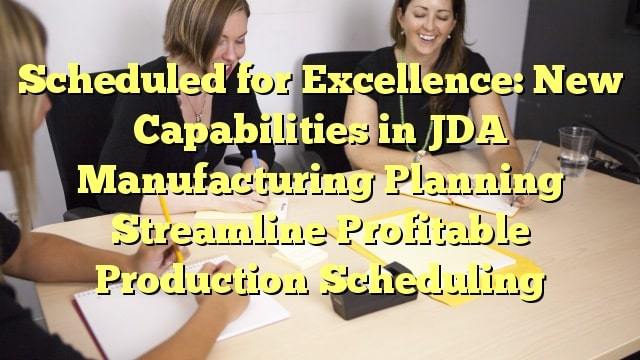 JDA Sequencing, part of JDA Manufacturing Planning,that make it dramatically easier and faster to schedule and sequence customer orders. JDA Manufacturing Planning offers industry-leading factory scheduling capabilities with a proven track record of balancing operations goals and customer service objectives across a variety of sectors including food and beverage, consumer packaged goods, consumer durables, industrial, chemical and pharmaceuticals. JDA customers can now leverage this best-of-breed software to produce globally optimal production schedules, leveraging user-defined scheduling rules, faster than ever before. As conditions change, JDA Manufacturing Planning ensures that the manufacturer's core objectives — such as on-time delivery and resource utilization — are effectively optimized, providing a factual basis for profitable decision-making.
"Today's supply chains extend over thousands of miles and include dozens of trading partners," explainedPuneet Saxena, vice president, industry strategy, Manufacturing Planning at JDA Software. "Across this complex network, events can occur on both the demand side and the supply side that throw existing production schedules into disarray. Whether employees miss a shift, equipment breaks down, materials fail to arrive on time, or a high-priority order is placed, these unexpected events cause a ripple effect that could impact every customer commitment. Production schedulers need an advanced solution to see every constraint and consequence in real time, empowering them to make the most profitable decision for the entire supply chain."
JDA Manufacturing Planning delivers market-leading capabilities to enable seamless supply chains in the digital age and satisfy customers profitably. The solution continuously synchronizes factory schedules with the rest of the supply chain, ensuring maximum factory throughput and responsiveness to customers while coordinating materials and procurement plans with upstream suppliers.
Key scheduling enhancements in JDA Manufacturing Planning 9.0 include:
Interactive predictive visualization. This release introduces an interactive and intelligent interface that enables production schedulers to work with highly complex constraints in simple and visual manner. Visual cues such as color coded highlighting guide the user by suggesting optimal placement of tasks, while revealing hard and soft constraint violations as different schedule options are being developed.
KPI impact analytics. While making an interactive schedule change, an exclusive JDA capability called "traffic lighting" highlights options in real time to show users how the change will impact their own key performance metrics locally together with fulfillment metrics for the overall supply chain.
Flexible reporting and dashboards.Unlike most scheduling solutions, which require a separate reporting engine, JDA's solution generates prebuilt, integrated reports on the active schedule that put all the relevant information right at users' fingertips. Users can also customize their scheduling dashboards to highlight the unique information, reports and metrics they value most, and share dashboards across multiple users, locations and facilities.
Saxena noted that the new upgrades to JDA Manufacturing Planning address industry demand for a more powerful and more responsive scheduling solution. "We've collaborated with our customers to understand their real-world needs and designed new capabilities that will add tremendous practical value," he said. "We're confident that JDA Sequencing, part of our JDA Manufacturing Planning solution, will make an even greater strategic contribution as our customers strive to balance service with profitability in today's multi-channel world."