JDA integrate 360pi's competitive pricing intelligence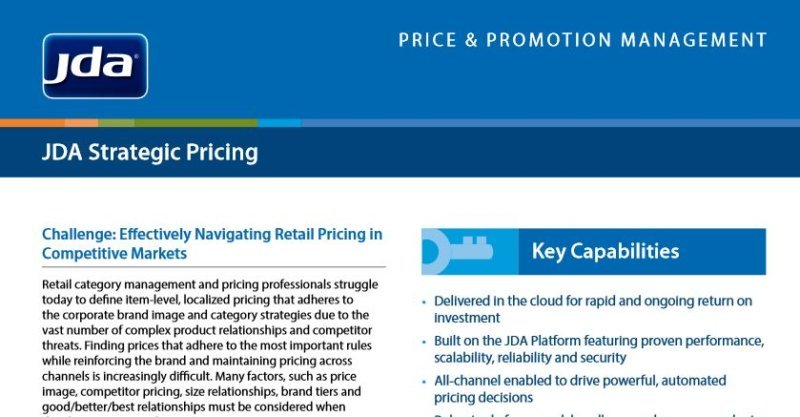 JDA integrate 360pi's competitive pricing intelligence : 360pi, the leader in competitive price intelligence for retailers and brands, and JDA Software announced a relationship to optimize local pricing recommendations for retailers. This partnership integrates 360pi's zone-based pricing intelligence for national and private label brands with JDA's rules-based Strategic Pricing solution, part of JDA's larger Price and Promotion Management portfolio.
JDA's Strategic Pricing solution solution helps ensure that merchandising and pricing strategies are accurately and consistently being applied by enforcing price rules that reflect the retail brand, the category role and the role of individual items within the category.
JDA's Strategic Pricing solution converts 360pi's competitive pricing intelligence into internal pricing rules, which retailers then use to right-price their assortment helping them efficiently and effectively navigate retail pricing in competitive markets.
JDA Software is the leading provider of end-to-end, integrated retail and supply chain planning and execution solutions for more than 4,000 customers worldwide. Our unique solutions empower our clients to achieve more by optimizing costs, increasing revenue and reducing time to value so they can always deliver on their customer promises.
360pi helps top retailers compete and win in an increasingly price transparent environment. 360pi actively monitors millions of products from hundreds of retailer websites and delivers price intelligence for exact and similar matched products with unprecedented accuracy. 360pi's customer base of brick & mortar, e-commerce, and multichannel retailers accounts for over $US100 billion in annual retail sales and includes Ace Hardware, Build.com, Overstock.com, and RIS Fusion award-winner Best Buy Canada. 360pi clients gain real-time visibility into the market and full awareness of the competitive pricing landscape to right price to consumers. Ultimately, 360pi's customers make smarter pricing decisions that drive increased conversions, revenues, margins and customer loyalty.