Review
Jarvis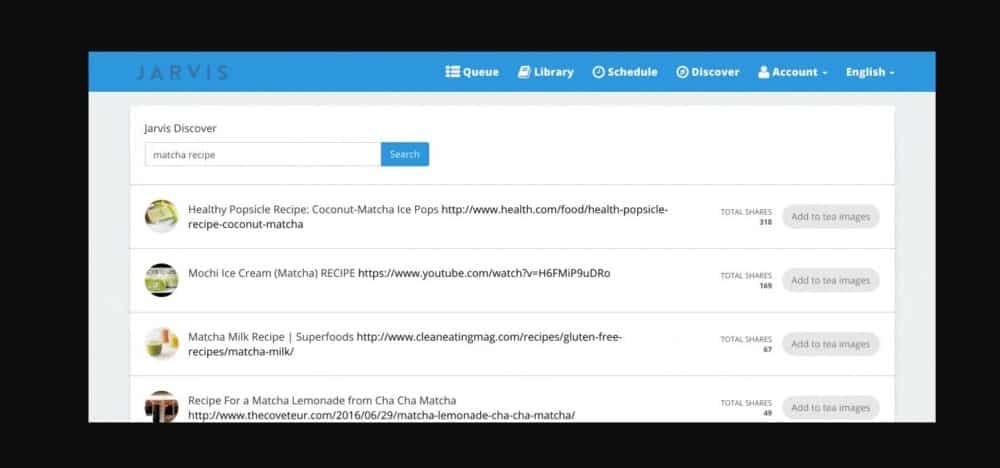 Overview
Jarvis is the fastest way to find, plan, and post content proven to be engaging on Facebook and Twitter.
Social Media Analytics Software Free
• Evergreen Content Recycling
• Content Discovery
• Starter - $ 19.95 Monthly
• Business - $ 29.95 Monthly
• Platinum - $ 39.95 Monthly
Small (<50 employees), Medium (50 to 1000 employees), Enterprise (>1001 employees)
What is best?
• Evergreen Content Recycling
• Content Discovery
What are the benefits?
• Recommending proven content that skyrockets engagement, boosts reach
•Build your social media schedule and Jarvis will post for you
Jarvis is a social media tool which recommends proven content that skyrockets engagement, boosts reach and drives more traffic to users' website from Facebook and Twitter. Jarvis has features such as posts scheduling, keyword filtering, content management and automated publishing.
Jarvis shows users the most viral and compelling content on the web and lets users add it to their queue with just a click which is then scheduled for automatic posting later where content are conveniently scheduled every day. Users may also choose how many content to post per day where users can even shuffle the content by clicking the shuffle button. Users can also choose the account they want the content to be posted to or edit the posts in the library.
Jarvis scours Facebook and Twitter every day and finds the posts and links that are getting the most likes, retweets, and comments then users can just search their keywords and see all the relevant ones from any time frame (daily, weekly, monthly, yearly, or from all time) ranked in descending order of engagement. Jarvis keywords can be filtered by time, language and content. Jarvis promotes not just ease-of-use, but also speed-of-use by letting users to simply find, plan then post or share engaging content which will lead to an increase in social referral traffic to users' website for users to close more sales where it leads to more backlinks and social signals, and therefore, more domain authority and organic traffic. Jarvis is deployable in Cloud, Saas and Web.