Izenda Simplifies Dashboard Customization in Business Intelligence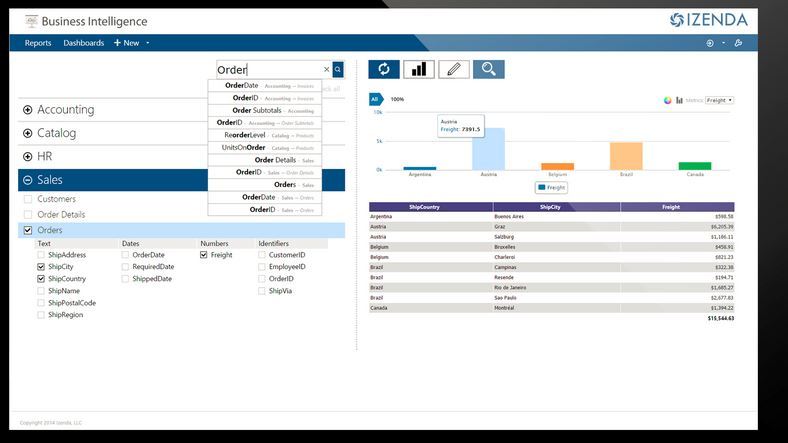 Izenda makes dashboard design and view customization easy for users with its controls all in one place, enhancing the control and functionality of Izenda's embedded, self-service business intelligence and analytics platform. Izenda's industry leading platform delivers ad-hoc reports and dashboards, data visualizations and forms.
Most tools on the market have distinct dashboard designers and viewers often on separate servers or on a desktop. Izenda has both design and view in one place and with this update continues to improve the platform's usability for technical as well as non-technical users. Dashboard tiles can be dragged and dropped and also resized on the fly. There's no limit to the number of tiles that can be added to dashboards.
A new Auto Gauge feature empowers users to create and customize dashboards that provide clear analytical call-outs to other users informing them of the need to take action or dive deeper into the source data behind the KPI. Izenda's core features already provide real-time data reporting and exploration capabilities. Users who are alerted by a dashboard call-out can immediately access the information they need to make a data driven decision in the host application.
Sharing and scheduling in the dashboard viewer/designer continues to enhance Izenda's ability for users to tell stories from the real-time data. By leveraging data in a slide show format, each user can more easily collaborate with others as they make data-driven decisions inside the application they use every day.
"With this latest feature, Izenda improves the ability users have to share the stories that their organization's data tells them to make the best business decisions in real time," said Lee Nagel, Izenda VP of Marketing.
Enhancements to the Data Sources functionality allows more analytical users to create a report with complex calculations and expressions and save it as a data source. This allows other users to leverage these "virtual views" to build reports and dashboards, layers of calculations and what-if scenarios. Also it permits users to perform ad-hoc cleaning and aggregation of data sources outside the relational database management system (RDBMS) without having to involve expensive and scarce technical resources.
Everything about Izenda is web-based, making it the most cloud ready BI platform on the market. For independent software vendors whose applications have unique security requirements, Izenda maintains support for hybrid or on premise deployment models.
Improvements to Dashboard 2.0 were attained through the use of Angular.js, keeping Izenda at the leading edge of technology. In a world where every calculation, every new application and its impact on performance is heavily scrutinized, Izenda continues to pursue a standard of a lightweight web application, improving the performance and usability of the host application.
By using Angular.js, Izenda provides the end user with the most seamless and responsive experience possible. This underlying base for writing single-page applications (SPAs) puts everything into the browser at once to run the web-based application. That puts the work on the end user's device, and not on the server. The server only gets accessed as needed for new data.
That makes Izenda faster and more responsive in terms of making customizations of dashboards and generating reports.
Angular.js gets the blessing of the developer's world, as Google wrote it, Microsoft endorses it and the open source community loves it.
"The 6.9 update assures that Izenda remains the most cloud ready, self-service embedded BI and Analytics platform while maintaining its strong support for hybrid or on premise deployment models that have unique security requirements," Nagel said. "With this release we continue to build upon Izenda's usability and seamless integration into our clients' applications."