Intelligent Industrial Work Assistant with Microsoft Azure Internet of Things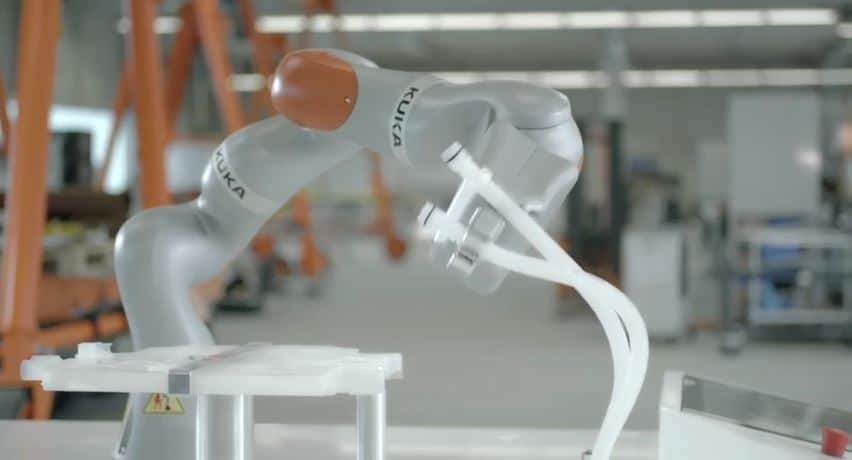 Intelligent Industrial Work Assistant with Microsoft Azure Internet of Things : Using precise movements and perceptive technology, this lightweight robot is able to sense its way around a complex task and perform precise automation movements safely and securely. This special feature enables KUKA LBR iiwa for human-robot collaboration. KUKA is a leading manufacturer of industrial robots and automation solutions.The combination with Microsoft Azure IoT services, Kinect hardware, and the OPC-UA communication standard leads to one of the world's first showcases blending IT with robotic technologies into a smart manufacturing solution with new capabilities.
KUKA LBR iiwa can perform the complex and delicate action of threading a tube into a small hole in the back of a dishwasher. KUKA is highlighting how its LBR iiwa can increase its collaboration with humans to jointly perform the task as peers working together. Previously this task could not be completed by traditional robots because the robot could not sense its surroundings, and its automatic movements would often break the appliance.
Movement data from the robot is streamed to the Azure cloud where workers can monitor progress and receive status reports from the factory floor. Errors in the supply chain are addressed in real time through Windows tablets, making the automated process faster and easier. Another benefit of the Azure cloud is that it allows users to view and act on data through a management dashboard, providing business analytics and trend intelligence. If a certain piece of the dishwasher is breaking more frequently than other pieces, for example, advanced data stream analysis can help understand what may be causing the issue or use predictions to recommend pre-emptive repairs with machine learning technology.
"Robots serve as the link between IT and production, between humans and technology," said Dr. Christian Schlögel, CTO of KUKA. "The showcase we created together with Microsoft is one example of how this link can be used in the future and how our KUKA technologies are ready for Industry 4.0. It's exciting to be at the forefront of sensitive robotics and to create the technology to allow humans to interact directly, increasing efficiency and productivity."
"KUKA is a true innovator in the industry, and it's been great to work together and provide the platform for it to create the next-generation robotic technology," said Caglayan Arkan, general manager, Worldwide Manufacturing at Microsoft. "This technology is a true evolution of human-robot collaboration and showcases what the future can hold in this space."
KUKA LBR iiwa redefines the possibilities for industrial robotics. For the first time, humans and robots can work together on highly sensitive tasks in close proximity. The LBR iiwa is also an important milestone on the road to service robotics. It is the first robot to have safe torque sensors in every axis and is suited for tactile solutions and gripper systems.