Independent Electric Supply Improves Distribution Operations With Descartes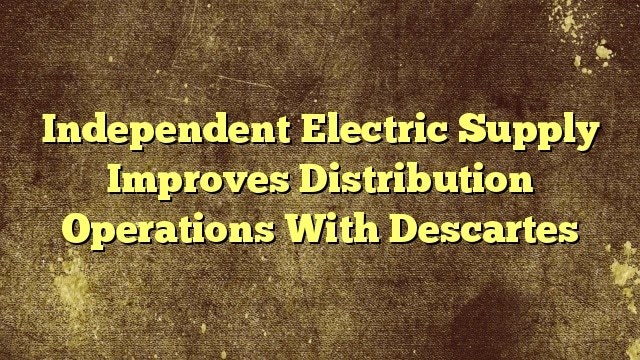 Descartes Systems Group a leader in uniting logistics-intensive businesses in commerce, announced that Independent Electric Supply, a leading electrical distributor throughout Arizona and California, is using Descartes' cloud-based Route Planner On-demand and Descartes Mobile solutions to improve the efficiency of its distribution operations.
"To support our business growth and better serve customers, starting in the Arizona market, we undertook a major strategic initiative to consolidate distribution operations and automate route management," said Roy Thornton, Regional Manager - Arizona at Independent Electric Supply. "Since implementing Descartes' Route Planner On-demand and Mobile as part of our strategy, we've been able to double and, in some cases, triple the number of deliveries to customers during our peak early morning hours. The Descartes solution has provided rapid time-to-value and we plan to soon expand the deployment to a new facility underway in Northern California."
Descartes' Route Planner On-demand is an easy-to-use solution for automatically planning drivers' routes. Planners and dispatchers benefit from better visibility and control over daily routes with a drag-and-drop visual planning user interface to make edits and monitor delivery status throughout the day. The solution offers advanced capabilities at an affordable cost including optimizing static and dynamic routes by taking into account geographic zones, time windows and other physical constraints. The mobile component of the solution provides real-time GPS-based tracking, monitoring of driver performance and can electronically capture proof-of-delivery (POD) information. According to Independent Electric Supply, its dispatcher and drivers were quickly able to become proficient with Descartes' user-friendly system.
"We're pleased to have helped Independent Electric Supply drive significant productivity gains and higher levels of customer satisfaction, especially during critical peak times," said Andrew Roszko, Senior Vice President of Sales at Descartes. "Manual routing processes are highly inefficient and cannot support the service standards that customers in many markets expect today. Descartes Route Planner On-demand and Mobile solutions are cost-effective and provide fast time-to-value for rapidly growing companies, like Independent Electric Supply, who need to centralize delivery operations and move away from traditional paper-based practices for route planning and execution."