Review
IdeaScale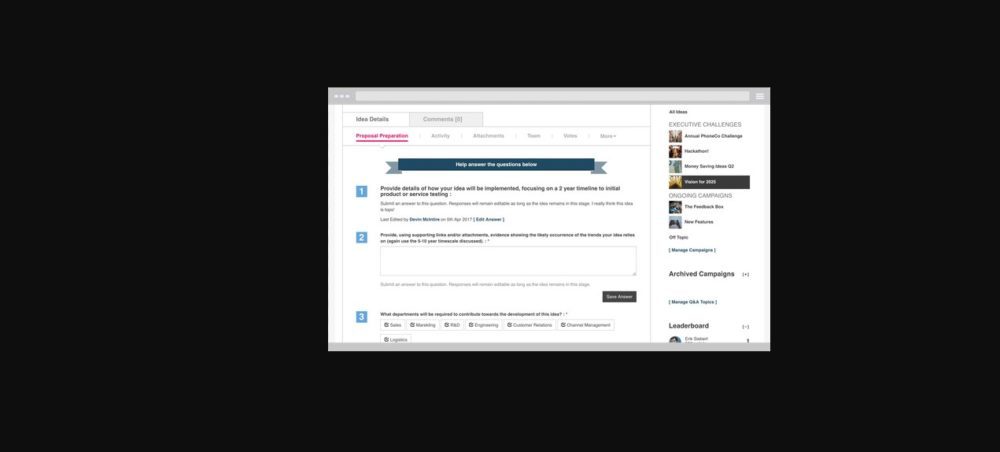 Overview
IdeaScale is an idea management platform that uses crowdsourcing to help you find and develop the next big thing.
•LiveChat Support
•Email-based access
•Leaderboard & badges
•Mobile Optimized
•Mobile Apps
•Collect - $4,999/year - Access for 200 Members
Small (<50 employees), Medium (50 to 1000 Enterprise (>1001 employees)
What is best?
•LiveChat Support
•Email-based access
•Leaderboard & badges
•Mobile Optimized
•Mobile Apps
What are the benefits?
•Social Integration
•Read API access
•Strategic Planning
•Custom Content
•IdeaScale Stages
•Email & Notification Tools
•Custom Fields
•Responsive
IdeaScale is a feedback and ideas tool that provides open innovation software to transform every business' product, process, or structure. Each platform is custom depending on which type of organization is utilizing it.
The IdeaScale citizen engagement platform gathers data from small to large citizen crowds in one site with mobile optimization, section 508 compliance, and real time translation. The software can help organizations at all levels of government to connect employees and government agencies providing a straightforward, accessed platform to share knowledge.
The IdeaScale program is ideal for gathering large crowds, with low effort requirements to participate watch dialogue and debate develop around ideas through votes and comments. The framework is configured to organize innovation lifecycles into discrete phases with specific activities, which are customizable and empowering. Share feedback and ideas from anywhere serving professionals at many educational institutions to improve services, save money, and discover new solutions.
IdeaScale has an email and announcement tools with notification preferences which can be set by community admins at the outset of any campaign. Technology companies can develop and deliver meaningful new ideas to a market faster while reducing their overall R&D costs, using insights and crowd wisdom. IdeaScale offers responsive design that will render well on any smartphone, tablet, or web browser.
IdeaScale includes custom fields on ideas, profiles or campaigns, so that administrators can gather rich, campaign-specific data. IdeaScale is customizable within each community in all languages, imagery, and architecture, admin teams can edit themselves or with IdeaScale's UX team.
You may like to review: Top Idea & Innovation Management Software