IBM to Integrate AlchemyAPI to core Watson platform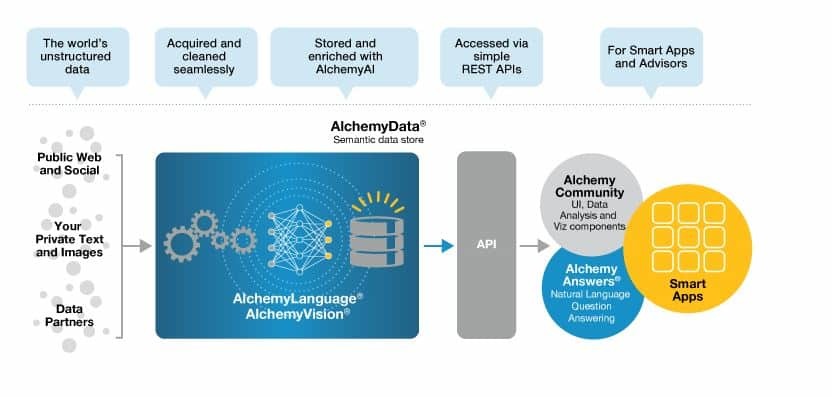 IBM to integrate AlchemyAPI to core Watson platform : AlchemyAPI, a leading provider of scalable cognitive computing application program interface (API) services and deep learning technology was acquired by IBM. IBM will integrate AlchemyAPI's deep learning technology into the core Watson platform, augmenting Watson's ability to quickly identify hierarchies and understand relationships within large volume data sets. The technology is expected to enhance Watson's ability to ingest, train and learn the "long-tail" of various data domains – including general business and target industries, as well as address the need to manage constantly evolving ontologies. The acquisition will greatly expand the number and types of scalable cognitive computing APIs available to IBM clients, developers, partners and other members of the Watson ecosystem. This includes language analysis APIs to address new types of text and visual recognition, and the ability to automatically detect, label and extract important details from image data.
Founded in 2005 and headquartered in Denver, AlchemyAPI's deep learning platform enables clients, partners, developers and other third-parties to build cognitive-infused applications with advanced data analysis capabilities such as taxonomy categorization, entity and keyword extraction, sentiment analysis and web page cleaning. AlchemyAPI's mission is to power a new generation of smart applications that understand human language and vision by democratizing breakthroughs in deep learning-based artificial intelligence. Its easy-to-use, high-performance cloud services for real-time text analysis and computer vision give companies the intelligence needed to transform vast amounts of unstructured data into actions that drive their business. AlchemyAPI's solutions have been used by more than 40,000 developers across 36 countries and a wide variety of industries to process billions of texts and images every month.The company's software platform processes billions of API calls per month across 36 countries and in eight different languages: English, French, German, Italian, Portuguese, Russian, Spanish, and Swedish.
Watson the cognitive computing capability is delivered through the cloud, analyzes high volumes of data, understands complex questions posed in natural language, and proposes evidence-based answers. Watson continuously learns, gaining in value and knowledge over time, from previous interactions. IBM is delivering new Watson services and APIs through the Watson Zone on Bluemix, the company's digital innovation platform that enables developers to rapidly build, deploy and manage apps across any combination of public, private and hybrid cloud. AlchemyAPI's capabilities, including new language analysis and visual recognition services, will be delivered through Bluemix, and enable developers to quickly build a range of business applications.
IBM Watson enhances, scales and accelerates human expertise, and represents a new era of computing in which apps and systems interact with human users more naturally, augment knowledge with Big Data insights, and learn and improve over time.