IBM Dynamic Pricing to Help Retailers Navigate Online Price Wars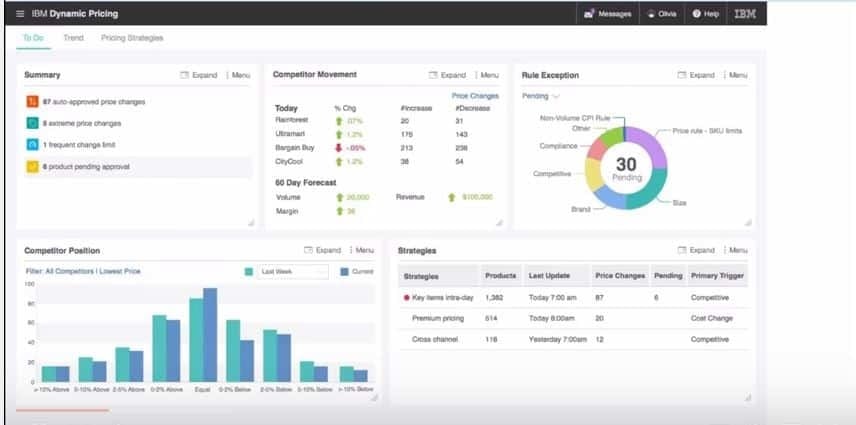 IBM Dynamic Pricing to Help Retailers Navigate Online Price Wars : IBM Dynamic Pricing, is a cloud-based offering that automatically recommends an online retailer's best response to changes in performance data and market conditions as well as the latest competitor pricing information.In an age of price transparency, retailers must do more than monitor competitor prices and other market conditions--they must be able to respond accordingly or risk losing customers. IBM Dynamic Pricing combines performance data, such as cart abandonment rates and browsing history, with sales, inventory and the latest competitive pricing information and in real time applies these insights to recommend the most appropriate pricing action.
While pricing is always critical to driving sales, reacting to competitor price changes is not always the best course of action. With IBM Dynamic Pricing, retailers can intelligently determine which changes they should respond to (and how) and which should be ignored, all based on potential impact on the business. When taking action is appropriate, the solution automatically makes real-time pricing recommendations.
For example, a retailer might find that a competitor rolled out a promotion on a key product, reducing the price by 15 percent. IBM Dynamic Pricing evaluates and decides based on product availability, price sensitivity and customer demand that an 8 percent pricing change will still enable the retailer to compete and to achieve sales and margin objectives. This price would then be automatically updated online.
"At any given moment, a retailer is no more than one click away from losing a customer online. IBM Dynamic Pricing executes real-time pricing recommendations at the scale and speed needed to ensure competitiveness in a volatile shopping environment," said Stephen Mello, Vice President, IBM eCommerce & Merchandising. "This intuitive and dynamic pricing system improves visibility into what's happening in the market, allowing retailers to make decisions that are best for their businesses and customers alike."
IBM Dynamic Pricing also helps the growing number of retailers with both physical and online stores navigate price wars. These retailers now can use data and insights from their physical stores to influence and price confidently online. As a result, they can successfully ensure that their customers get the best prices while protecting their margins.