Review
IBM Blueworks Live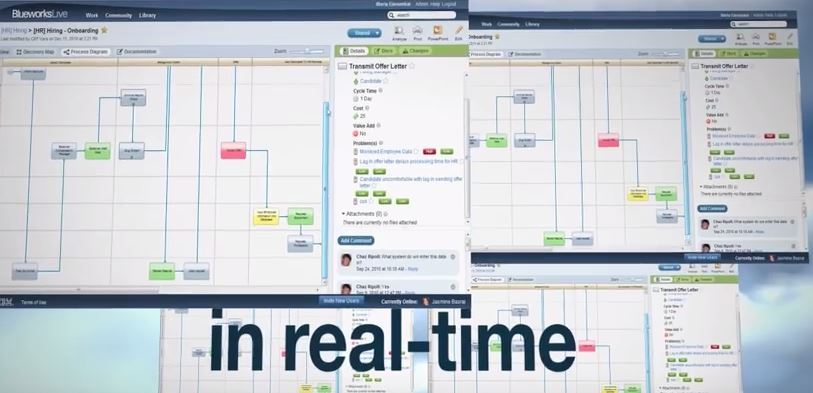 Overview
Blueworks Live makes drawing tools obsolete with a dedicated, easy-to-use process modeling workspace in the cloud.
Business Process Management Software
Discovery and documentation:
Capturing processes & decisions
Data Export & import
Centralized Collaboration:
Public & Private Communities
Licensing
Automating Simple Processes
Private & Security:
Data Privacy & Security
Network Security
Authentication
Editor Licenses - $57.50/editor per month
Contributor Licenses -
$11.50/contributor per month
(does not include tax)
Small (<50 employees), Medium (50 to 1000 Enterprise (>1001 employees)
IBM Blueworks Live is a modeler designed to help organizations discover and document business processes, decisions and policies in a collaborative manner.IBM Blueworks Live has key benefits to business users who are looking for an easy- to- use process modeling or drawing tool that one can rely on for its business. It is a cloud-based solution with a dedicated process modeling workspace.
It supports a process-driven organization to its mission in providing unrivalled services to its clients.Process will be made simple. This means that user can get rid of sticky notes and generic drawing software. Business users will work collaboratively and they will see changes dynamically. They can post comments and share ideas. It will keep teams in synch with a common repository.
Additionally, Blueworks Live is designed to engage business users, whether users are modeling the activity flow, capturing process properties, or discovering decision logic. But one should never lose sight of the fact that process improvement is a team effort. That means all members of the team need shared access. Blueworks Live provides that as well, without any additional integration. In fact, it goes even further, by allowing multiple users to edit the same process model simultaneously and see each other's changes.
When editing a process or decision, the user can see who else is logged in to its Blueworks Live account, and collaborate in real time via chat or simultaneous editing. As Blueworks Live's activity stream provides a central hub for non-real-time collaboration.
This comes easy & intuitive for both business & IT users. As it automatically generates process and decision diagrams and layout is automatic & fast. Blueworks Live also incorporates process modeling into the way one work. All work is automatically saved and backed up, export and print to a variety of formats and office tools, customizable with own logo & branding and integrates with IBM Business Process Manager.As a conclusion, IBM Blueworks Live encourages a user to try the tool for thirty (30) days at no cost. There is nothing to download and nothing to install. One just had to log in and engage the business user to explore on it. The 30- day free trial initially allows a consumer to create its first process model within ten (10) minutes.
You may like to read: Top Open Source and Free BPM Tools and How to Select the Best Business Process Management (BPM) Software for Your Business