IBM B2B Commerce for compelling customer engagements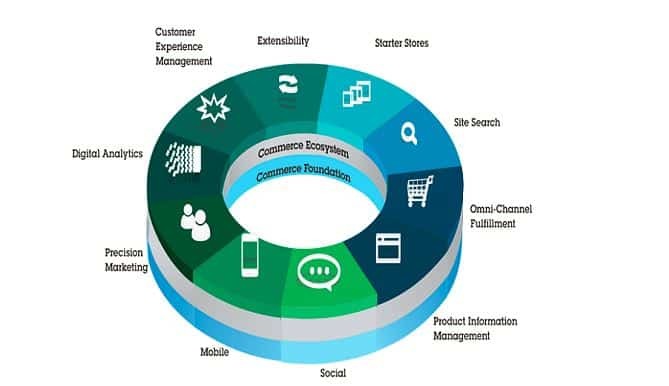 IBM B2B Commerce for compelling customer engagements : IBM B2B Commerce transforms the complex B2B buying process by providing customers with a more engaging and simplified experience that ensures they can easily find and purchase the products they need across any channel or device. B2B organizations can quickly build these advanced B2B digital storefronts in just minutes with no technical experience required.
While the U.S. B2B ecommerce market was predicted to reach $559 billion in 2013 according to Forrester Research – more than twice as big as B2C ecommerce sales – a vast technology gap remains in how businesses engage, buy and sell products and services from one another. Most B2B organizations still rely on inadequate systems to engage the customer – from online catalogs to manual sales processes – that make it difficult to execute and manage increasingly complex B2B transactions. As mobile, social and digital channels become the standard in consumer transactions, B2B buyers want to engage with the same ease and simplicity that they expect as a typical consumer.
Delivered through the IBM Smarter Commerce initiative and powered by the company's market leading WebSphere Commerce solution, IBM B2B Commerce provides new drag-and-drop features that make it easy for organizations to build engaging B2B storefronts right out of the box. The solution helps B2B organizations quickly model complex buying scenarios and procurement processes while also supporting extended routes to market with business partners. By bringing omni-channel capabilities to B2B customers, partners and field sales teams, organizations can expect an increase in customer satisfaction and revenue while reducing total cost of ownership and the need for hands-on support.
"With so many office supply vendors to choose from, it is critical for us to make it as easy as possible for our customers to order the products they need for their business across our expanding portfolio of offerings," said Ritesh Patel, Chief Information Officer at Office Brands, Australia's largest independent office products dealer. "The new IBM capabilities empower us to dramatically simplify the B2B buying process with familiar B2C-like functionality to create a differentiated experience tailored to each of our customer's specific business needs, roles and entitlements."
By infusing the power and simplicity of engaging consumer experiences into a B2B environment, IBM B2B Commerce allows companies to more easily execute even the most complex B2B transactions – from purchasing simple replacement parts to entire systems. This benefits both buyers and sellers in a number of ways:
• Fast deployment of new online storefronts allows organizations to build a complete B2B customer engagement solution in just minutes. IBM Commerce Composer makes it easy to customize these storefronts with over 80 widgets and applications from IBM and its Ready for Smarter Commerce partners.
• Advanced buyer profiles enable users to preconfigure the latest pricing agreements, internal approval processes and other negotiated entitlements for their company, which can lead to faster customer onboarding and faster time to revenue.
• Integrated search combined with contract entitlements ensure end customers find the products they need specifically for their business with less reliance on live customer service.
• Integrated marketing tools enable businesses to launch and execute marketing campaigns directly from the platform.
• Web site analytics allow businesses to fine tune the customer experience by identifying where customers are struggling with the process.
"The rapidly shifting expectations of the customer have created a market-defining opportunity for B2B organizations to transform the way they engage with their clients," said Charles Chu, Vice President, Products & Strategy, B2B & Commerce, IBM. "IBM is helping clients meet these new demands by bringing new omni-channel capabilities to B2B for the first time to make it easier for customers to purchase the products they need when they need them."
IBM B2B Commerce drives seamless customer interaction for B2B commerce across all touchpoints – including traditional field sales and the value chain of partners, resellers and distributors. Through a single powerful platform, IBM B2B Commerce provides a differentiated commerce experience across all of a company's business models to drive better customer engagement and increased sales.