Review
HYPE Innovation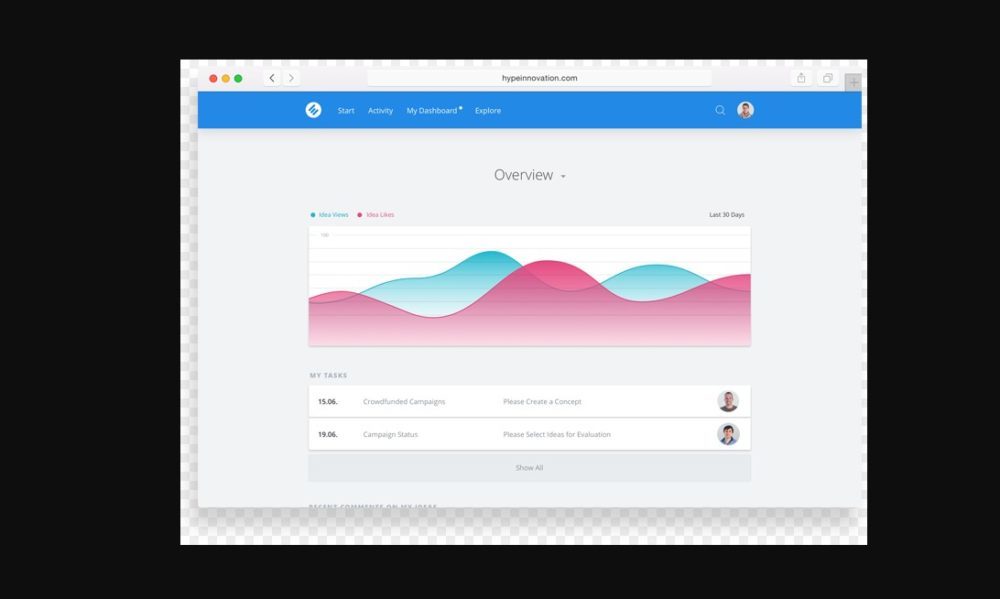 Overview
HYPE Enterprise is feature rich, with an elegant user interface that requires no end-user training. Highly configurable, German-engineered, to meet the most demanding organizations.
• Activity Dashboard
•Brainstorming
•Collaboration
•Creator Tracking
Small (<50 employees), Medium (50 to 1000 Enterprise (>1001 employees)
https://www.hypeinnovation.com/
What is best?
• Activity Dashboard
•Brainstorming
•Collaboration
•Creator Tracking
•Idea Ranking
•Project Tracking
•Status Tracking
What are the benefits?
•Idea Ranking
•Project Tracking
•Status Tracking
•Trend Scouting
•Idea Generation
•Evaluation
•Implementation
•Social & API Integrations
HYPE is a full-lifecycle enterprise innovation software designed to deliver enterprise scale solutions for managing ideas, and turning them into valuable outcomes.
The platform features brainstorming, collaboration, creator tracking idea ranking, trend scouting and more. Trends incentivize users to visit a particular platform more often and inspire by highlighting recent developments in various markets With trend scouting users can research patterns through integration fed by a global network of scouts, linking dynamics on a database within strategic innovation areas. HYPE offers users the option to easily set up campaigns for targeted concepts with a campaign wizard, based on past templates or from scratch.
The idea authors can launch online brainwriting sessions, support distributed teams and generate idea fragments. The collaboration element only requires a minimum number of comments, votes, and visits for new ideas to be submitted enriching ideas and reducing the review team's workload. Users can assume and mark perspectives on an idea as well as request perspectives for a balanced review on idea generation, collaboratively solving challenges. HYPE provides idea boards to easily evaluate concepts to filter out those that aren't relevant using a range of methods to match individual circumstances.
The evaluation wizard can quickly set up detailed scorecard evaluation sessions to define ranked lists of good ideas, based on a head-to-head comparison. In the concept phase, users can investigate, assign resources, budget, and develop a business case, supported by HYPE Enterprise. Track decisions, define milestones and develop ideas further with the KPI wizard with updates and latest reports of developments with a single click. HYPE offers integration with leading enterprise social software platforms, as well as a universal API for your enterprise business applications.
You may like to review: Top Idea & Innovation Management Software