Review
HubSpot CRM Free Edition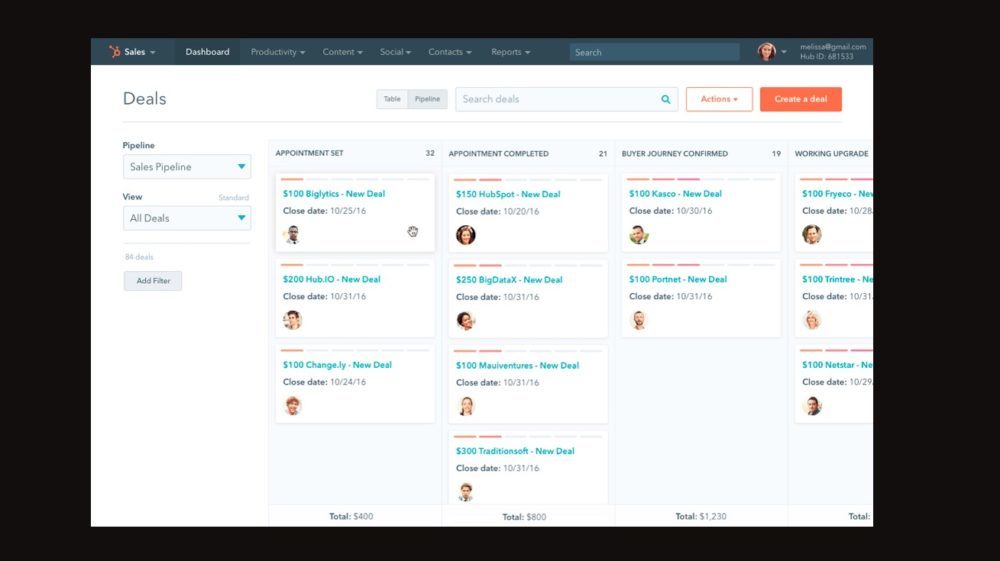 Overview
HubSpot CRM Free Edition provides Core Features such as Contact management, Contact & company insights, Company records for Unlimited Users, Gmail & Outlook integration, Deals and Tasks. The features for Marketers include Lead analytics dashboard, Forms, Contact activity and Facebook lead ads. The features for Sales People include Email scheduling, Email tracking notifications, Limited to a stream of up to 200 recent opens, Email templates. Documents, Calling and Meetings
•Core Features such as Contact management, Contact & company insights, Company records, Gmail & Outlook integration, Deals and Tasks
•Features for Marketers such as Lead analytics dashboard, Forms, Contact activity and Facebook lead ads
•Features for Sales People such as Email scheduling, Email tracking notifications, Limited to a stream of up to 200 recent opens, Email templates. Documents, Calling and Meetings
•Unlimited Users
Small (<50 employees), Medium (50 to 1000 employees), Enterprise (>1001 employees)
What is best?
• Sort deals by name, owner, amount, or stage with custom filters for actionable intel
• Track customer interaction automatically
• Queue up a series of emails and deliver them to a prospect on a set schedule
• Know the instant a prospect opens an email or downloads an attachment
• Turn repetitive emails into prospects
• Get insights to be seen by the sales team by automatically populating contact records
What are the benefits?
• Manage your pipeline with total visibility
• Log sales activity automatically
• See everything about a lead in one place
• Enrich contact records automatically
HubSpot CRM enables managing of the pipeline with total visibility. This is possible by HubSpot CRM allowing getting an up-to-the-minute view of the entire sales funnels on a clean, visual dashboard. The pipeline management feature enables sorting of deals won and lost, contacts sent over any time period, appointments scheduled, and tracking of performance against the set quotas.
HubSpot CRM offers an excellent platform to track customer interactions automatically whether they are in emails, on a call, or across the social media. HubSpot CRM also enables viewing everything about a lead in one place. The CRM achieves this by allowing every interaction with a lead is stored in a tidy timeline, including meetings, notes, emails, and calls.
HubSpot CRM makes it easy to send personalized sequences by queuing up a series of emails and delivering them to a prospect on a set schedule. With HubSpot CRM, businesses can create and measure email templates. They achieve this by HubSpot CRM allowing turning of repetitive emails into templates that can be sent in seconds. Then allow tracking the performance of the templates and sharing the best ones with their teams.
HubSpot CRM provides real-time notifications. It achieves this by knowing the instant a prospect opens an email or downloads an attachment. HubSpot CRM offers insights to the sales team that they will use to automatically populate contact records with details from the HubSpot CRM database. HubSpot CRM also allows setting of availability and getting a shareable link that syncs with the calendar and allows the leads to pick a time that works for everyone.
You may like to read: Free, Open Source and Top Customer Relationship Management (CRM) Software, How to Select the Best Customer Relationship Management Software for Your Business and Steps for a Successful Small Business CRM Implementation
HubSpot CRM Free Edition Features
Contact management
Contact & company insights
Company records
Gmail & Outlook integration
Documents
Contact activity
Facebook & Instagram lead ads
Canned Snippets
Email scheduling
Email tracking notifications
Conversations inbox
Conversational bots
Meetings
Reporting dashboard
Live chat
HubSpot CRM Free Edition Pricing
For growing companies of any size. Set the foundation for your business with a free system to build deeper relationships with contacts, from first interaction to happy customer and beyond.