How to Select the Best Self Service Dashboard for Your Business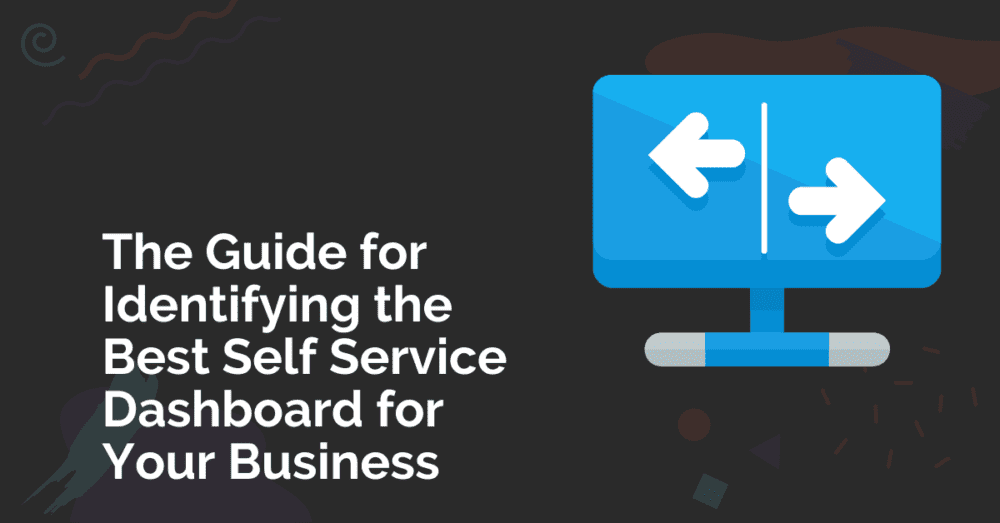 Large organizations and SMEs have always has issues of data disruption which leads to crush of data or loss of data. Marketing, logistics, sales, supply chain, support, manufacturing and other data flows into enterprises, but as most corporate leaders know, the main issue is being able to convert strategic and tactical decisions based on the data. What's more challenging is being able to open to users at different levels of the business silo data so that data driven approached become a pattern rather than a boardroom exclusive domain.
The fact that business have to wait for data report for days and when they receive the data it is outdated thus incomplete decisions which in turn impacts company productivity and its survival. It doesn't have to be like that, not with self-service BI dashboard.
What are Self Service Dashboard?
As a business grows in a volatile pace, there is a demand for faster and better access to data that before as business users need that to support their accurate decisions. Businesses don't have the time to wait for the IT team to deliver handcrafted dashboards or customer reports to each other. There used to be a time where enterprises had no chance but to move out of business intelligence solutions. The need to retain data analysis and information technology professionals and extremely high costs are some of the reasons why the tools were out of reach to some businesses.
Nowadays, with the mining of data even on most remote data points so that a business may have a competitive edge compared to others makes business intelligence, not an option, so are other complicated systems that make you devote lots of time to refine and clean data. Self-service business intelligence solutions puts you up and running with measuring results and performance analysis that enable users to make effective business decisions within no time – without the need of hiring data professionals or consult with your IT department.
Fortunately, approaches that are in progress on business intelligence technology either in internet-accessible or cloud-based solutions have introduced a new era of self-service dashboards. Though many enterprises are dubious on how to evaluate these new dashboards, here are the key factors they should take into consideration:
You many want to review the Top Open Source, Free and Top Dashboard Software
A self-service dashboard is a visual interface that allows users to access, analyze, and manipulate data in a user-friendly manner, without the need for technical support or programming skills. It provides interactive tools and charts to explore data, create reports, and visualize insights. The goal is to empower business users to make data-driven decisions, improve operational efficiency, and support informed decision making.
How to Select the Best Self Service Dashboard for Your Business
Self-service dashboard software is a tool that enables business users to access and analyze data in an intuitive and interactive manner. It provides a visual interface with charts, graphs, and other interactive elements to explore and analyze data without needing technical support or programming skills. The goal of self-service dashboards is to empower users to make data-driven decisions and improve operational efficiency. With self-service dashboards, users can create custom reports, analyze data trends, and track key performance indicators (KPIs) in real-time.
Additionally, these tools often offer a wide range of data connectivity options, enabling users to integrate data from various sources and get a holistic view of their business. With the ability to collaborate and share insights, self-service dashboard software can help organizations make more informed decisions, reduce dependence on IT, and drive faster business results. Overall, self-service dashboards offer a powerful and flexible solution for data visualization and analysis, making data accessible and actionable for everyone in an organization.
The best of breed systems provide an opportunity for Information Technology to implement simple dashboards and add capabilities such as analytics and custom applications as the understanding of the users become more sophisticated and the enterprise's needs grow. Also, while the number of users and Computational complexity of reporting may be low during the early phases, the growth of organization presents demands to warrant a significant increase in backend hardware.
Decision-makers in IT needed to analyze the overall solution and expected the rate of growth to purchase appropriate hardware or allocate necessary cloud resources (depending on the implementation) to support both near and mid-term business needs.
You may like to read Best Practices in Self Service Business Intelligence
Level of Interactivity: Flexibility and interactivity can as well imply the difference between project failure and thirst for a new tool. Before the company selects a new self-service dashboard, they need to understand what the actual user's requirements are. The new tool should ensure users still maintain their comfort levels and being able to access data from a variety of sources. The tool level of interactivity should be based on the user rather than the whole business. A good example would be business executives just a snapshot of the business performance at a glance while for a business analyst requires a higher level of customization and interactivity. The higher the level of interactivity a more profound the analysis a user will have to undertake. If the interactive level is smooth the implementation of the dashboard will be good this will increase the productivity of the business.
Scalability and growth: As users become more familiar and comfortable with self-service dashboards, they tend to discover new uses for information and start to look for more flexible and sophisticated functionalities. When selecting a dashboard, you should take into consideration one which allows growth and deploy to multiple users capabilities. Consider business growth, growth in end-users needs and skills, and growth in a variety and some data sources. If data volumes on self-service BI grow, the dashboard should be able to scale and deliver optimal performance. On implementing a self-service dashboard, a scale-out option should be put into consideration
Quick Performance and Response: Self-service dashboards aren't different from another kind of dashboards which you are familiar with: the one in our cars. Car dashboards provide quick updates on how the car is performing, so is the self-service dashboard for your business. The tools should be able to query large data chunks and quickly provide a response. Different vendors have tried to balance performance and scalability using a couple of techniques such as disk-based caches and in-memory. The methods have enabled users to tune them, thus allowing fast and adequate performance. Fast performing dashboard means fast response to user data inquiry leading to user satisfaction and smooth implementation of the dashboard to the organization.
Pertinent Time Horizons: Different users have different ways to which they might want to access data; others may require to obtain data in real-time or near real-time while others may want to accomplish their tasks in historical data. When choosing a self-service dashboard, business should consider the type and nature of different user's role and their urgency of the decisions. Getting to know these early will ensure your dashboard implementation gives the right information and the right time to the right users. It will also enable your team to build the right dashboard on their first attempt. If you ignore such factor, it may add some time to your implementation process, if you find out that you require a different time horizon.
User Adoption Preparation: You should consider some factors before you decide to roll out self-service dashboard, you should make sure that the dashboard capabilities match that of the user's technical aptitude, the business role which will help them perform better in their job. Ensure users understand the limitation and sources of the data and conduct training as well. Some users might be open to flexibility and comfort with user experience while others might require you to create simple reports which include basic prompts. It is essential to plan the implementation around the user because for self-service dashboard implementation to be successful, the end-user should be capable of using the system.
Dynamic Interface: The self-service dashboard should be functioning intuitively and visually pleasing. To develop a useful user interface, it depends on the design and configurations that the administrator requires and functionality tools. The dashboard GUI should have an interactive interface, synchronization abilities on pages, sections with rich yet interactive charting engine. The interface should have guided navigational support, which recommends paths based on users preference and context. Dynamic interfaces offer users comfort making easy for a successful implementation of the dashboard in the organization. These should be one of the factors to consider when selecting it.
Security and Role-Based Permission: For a dashboard to accomplish the needed tasks appropriately, it has to ensure that it understands each users role and provide necessary access. It has to review top-level access to information and extend the information that might be required for item analysis. When you provide wrong information to the dashboard that reduces its usefulness, these may as well display to unauthorized users sensitive data and lead to damage of business workflow in your organization. Conversely having the right role-based permissions and security level ensures that your end-users get the relevant information within the anticipated time for smooth business workflow and it also prevents malicious individuals from accessing sensitive data
Easy Interaction with Data Reports: There should be different guidelines set for power users and casual users. Casual users can use emphasized data insights or guided analytics and simple filters to interact with the reports while power users can modify, create, and manipulate and calculation or new business logic by the use of advanced features in the dashboard. When businesses are selecting self-service dashboard, such feature will not only enable manipulation of reports but enable users to create dynamic reports that facilitate business goals.
Provide Access to Different Sources of Data: The self-service dashboard needs to have the capability of providing different data sources to the end-user. The data should be readily accessible to any user from anywhere and on any device. This data sources need to include contextual together with other traditional relational sources and data models. To make the self-service dashboard more responsive, the dashboard would also need to provide metadata of each data sources accessed by the users.
Data Mashing on Dashboard: The self-service dashboard solution needs to be able to provide its users with the necessary guidance to generate or acquire data. A flashy and wizard interface cannot only offer the idea on how to obtain different sets of data but also the knowledge to discover the relationship between them. The self-service dashboard needs to provide support for advanced data integration features as well.
Here are the trending and the top rated Dashboard Software for you to consider in your selection process:
Top Dashboard Software
PAT Index™
Here are the trending and the top rated Dashboard Software Free for you to consider in your selection process:
Top Dashboard Software Free
PAT Index™
You may like to read Best Practices in Self Service Business Intelligence
What are Self Service Dashboard?
Self-service business intelligence solutions puts you up and running with measuring results and performance analysis that enable users to make effective business decisions within no time – without the need of hiring data professionals or consult with your IT department.