How to Select the Best CRM Software in Public Sector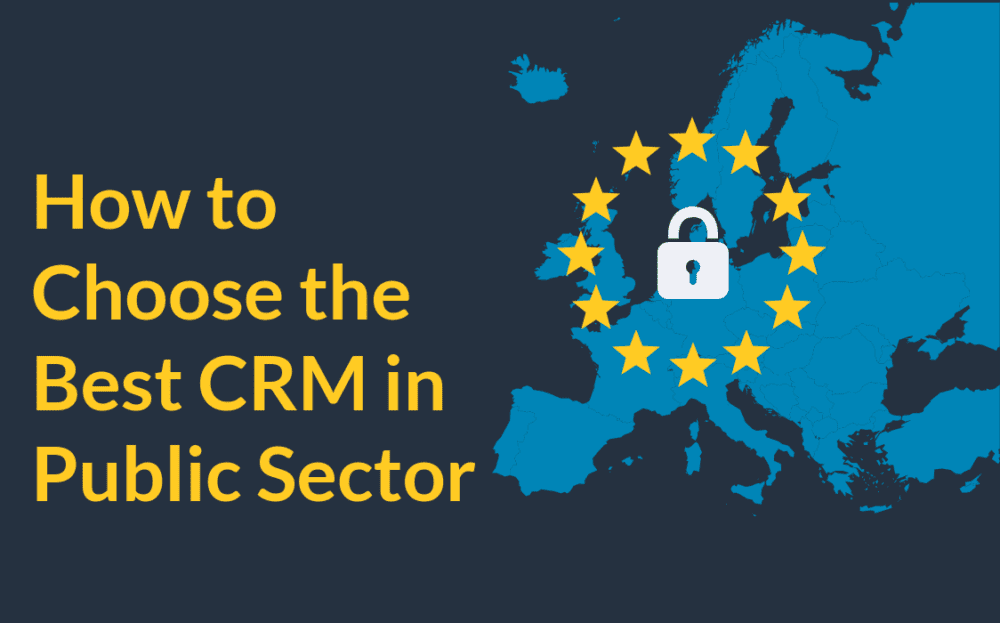 Service delivery in public sector has been wanting for long. Citizens always complain about poor services and frustrations while seeking government services. This is normally due to failure in service delivery, lack of transparency and poor communication. Recently, the government has taken up these concerns with an aim to revolutionize the whole process of service delivery.
The invention of CRM programs is making it easier for government to connect with its citizens. Public sectors are able to streamline their service delivery as well as cut cost in most of their processes. Besides cutting cost and streamlining service delivery, governments are able to create a connection between their citizens, which has always been the aim of most political leaders.
CRM programs play a major role in dealing with the complex government services and bureaucratic nature of business processes in the government offices. If well utilized, the system will bring some sanity in the public sector. Citizens are heavily taxed to cater for their needs and services. More often than not, these funds are misused resulting in inefficiency and disconnect between the citizens and the government. CRM systems aim at reversing these trends as well as create satisfied citizens.
What are CRM in Public Sector?
Customer relationship management is a tool that is used by the government to deliver services to its citizens. The aim of the system is to create a connection between the public and the government agencies. The system is also viewed as a tool that helps in cost reduction by integrating different processes from different government departments without compromising on quality and efficiency.  CRM can, therefore, be viewed as a strategy and enabling technology that is used to bridge the gap between the citizens and their leaders.
The system consists of software and methodologies that help in managing, facilitating and automating government interaction with its citizen. Government offices are increasingly moving to web-based services.
Citizens are able to access most of the services through the government portal. This, in turn, is creating a new wave in public sector where manual processes are slowly being abandoned. Citizens are becoming more connected with the government due to the increased efficiency.
However, CRM in government is much complex as compared to CRM used in the private sector. This is so because;
Citizens take both roles as users of the system as well as customers who are seeking for the same services they are delivering.
The government sector is widespread covering different regions thus making it a challenge to have a holistic view of one customer at a time as opposed to private companies.
Government offices are non-profit making units and as such, it is a bit challenging to determine the success of the system as opposed to the private sector where you can easily determine the ROI of the system.
Heavy regulations, standards, and policies are used to monitor the collection and use of data as well as procuring of the system in the government offices. This is not the case in private sector thus posing a challenge in its utilization.
What are the features of CRM in Public Sector?
The government sector is unique compared to the private sector. As such selecting a CRM system for the sector requires one to be specific on what they are looking for. There are some core features that are must-have for the system to be effective. Otherwise, if you purchase any system that comes your way, you will end up misusing tax payer's money without offering any value. Which are these key features to look for?
Self – Service
The system should act as a one-stop-shop where citizens have all their needs addressed from one point. This helps in improving service delivery, boosting efficiency as well as saves time. Customers are able to raise queries and get instant feedback as well as get updates on the progress of their requests.
Automated process flow
All the activities can be managed online across all channels. The system should be able to automate the workflow from the initial process all the way to the end. Should also be able to monitor the process flow to ensure there are no delays and SLA is adhered to. The feature can also be used as a monitoring tool to curb any anomalies that may arise.
Fund management
Funds usage should be monitored on a daily basis. This will help in eliminating misappropriation of funds by unscrupulous officers. It makes it easier to account for funds and comply with government regulations.
Licensing and permitting
The system helps in automating the processes of issuing licenses and permits. This means businesses can have their licenses renewed instantly without visiting the government offices. This saves time for both traders and government officials as they are left to concentrate on other important activities.
Management of constituencies
Automated workflows help to manage and streamline service delivery across all sectors in the government. Also improves sharing of new developments in policy changes, new services, and upcoming activities.
Social networking
The system facilitates the use of social network sites to track new updates and collect useful data. Documents can be easily shared through the social networks as well as post new updates and share important information timely.
What are the benefits of CRM in Public Sector Software?
Government stands to benefit immensely from a well designed and implemented CRM system. The system   boost the efficiency while at the same time reduces cost in government services. This is achieved through facilitation, automation and streamlined interaction between citizens, civil servants, service providers, and stakeholders. The system also empowers government workers by providing better tools for performing their tasks thus creating a better working environment within the government offices.
Improves service delivery
The system helps to automate most processes by use of modern technology. This, in turn, helps in eliminating human errors, cutting cost by eliminating too much paperwork, and reduces delays in service delivery thus saving time.
Promotes transparency
Self-service portal enables citizen to apply for services as well as monitor the progress. There is real-time interaction with the citizens thus queries are answered promptly and any pressing issues resolved on time.
Prompt dispute resolution
The system offers a one-stop- shop for dispute resolution from one contact point. Having a centralized agency where all queries are addressed helps safe time and provides standard information without contradiction. Citizens from different regions with the same issues can be addressed all at once from a central place.
Its cost effective
Automated services eliminate manual tasks thus saving on time and cost involved in terms of human resources. Data can be easily accessed analyzed and reports generated in real time. This boosts staff productivity as they are able to concentrate with strategic tasks rather than performing manual tasks.
Promotes use of technology
Employees are able to access information from different locations without necessarily visiting the office. This means field officers can collect data and submit in real time. Citizens can also have their queries responded to throughout the week at the comfort of their businesses.
Improves revenue collection
Introduction of tax compliance tools helps citizens pay and file their tax returns on time. Automated services such as issuing of permits and licenses helps the government collect data on what have been collected thus reducing issues of corruption.
Here are the trending and the top rated CRM in Public Sector for you to consider in your selection process:
You may also review the Top CRM in Public Sector :
CRM in Public Sector
PAT Index™