How to Select the Best CRM Software for Pharmaceutical Industry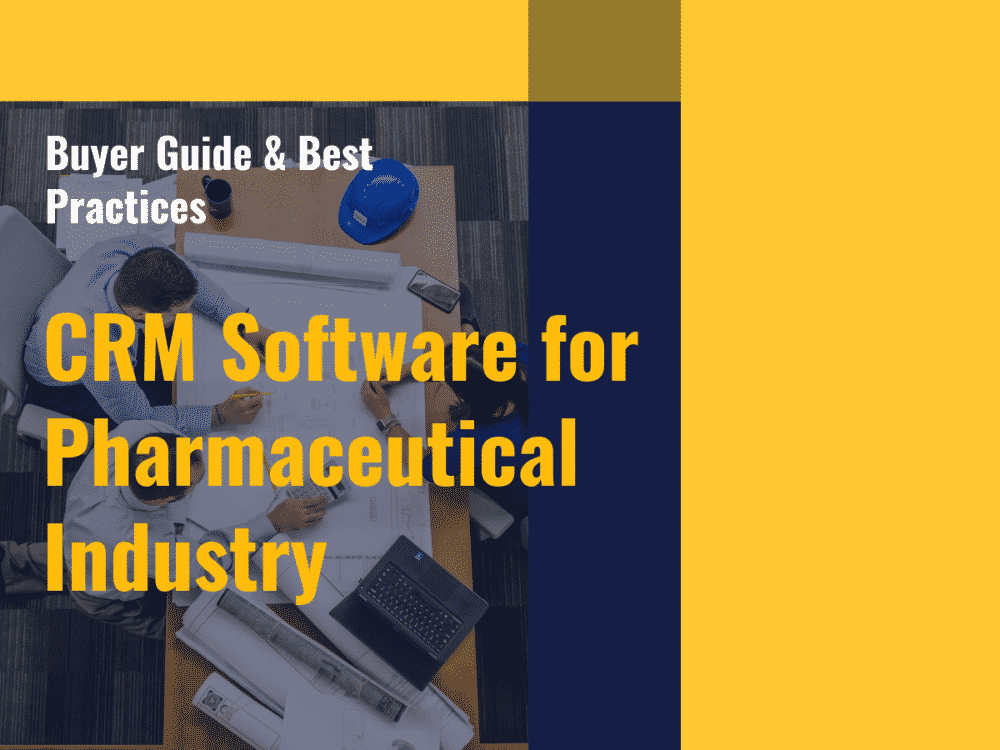 Demand for excellent customer care services is no longer a luxury but a necessity. With the influx of numerous Pharma companies, pharmaceutical has been forced to embrace customer relationship management to remain a float. As the old adage goes, 'customer is the king', to remain in the business, companies have to treat them right.
Healthcare sector is under pressure to deliver. This is being caused by the increased cost, the complexity of the industry and new business models that are coming up. The Internet has come to transform the industry through the introduction of new technology where customers can have access to individualized products and services.
To remain competitive, Pharma companies have to embrace the new technology and focus more on customer needs rather than product differentiation. As a result, customer relationship management is taking center stage in the Pharma world. In return, the companies are able to boost their sales which have a direct effect on growth and profitability of the company.
You may like to read: Top Pharmaceutical CRM Software
What are CRM in Pharmaceutical Industry?
Customer Relationship Management increases revenues and profitability by coordinating, consolidating and integrating all points of contact that enterprises have with their customers.
CRM focuses primarily on the marketing, sales and service processes. In marketing process CRM supports the customer and the business itself with information on products, campaigns, customer profiling and in Sales process CRM supports the customer with call center activities, product configuration information.
CRM in Service process supports the customer with problem analysis, handling guarantee. CRM is increasingly being used by pharmaceutical companies with an aim of increasing revenue as well as offer guidance to the sales team. The system assists the companies to identify their good customers, retain them by offering excellent services as well as maximize their value. CRM can also be viewed as methods a company employs while interacting with their customers. The main focus of CRM is in sales, services and marketing processes.
The aim of introducing the system is to boost sales which in turn increase the revenue of a company. How is this achieved? The system coordinates consolidates and integrates all the points of contacts with the customer. This ensures that a personalized relationship is formed between the company and its most loyal customers.
There are different types of CRM in the market a company can choose from. To be more efficient, companies are at times forced to combine different CRM system as each has its unique functionalities.
Operational CRM: usually used by front office team to manage their sales, marketing, and service processes. The system captures data from customers that is used for automating sales, marketing as well as manage campaigns.
Analytical CRM: this is used to analyze customer data which in turn helps in market campaigns and management of customer information.
Sales intelligence CRM: it sends alerts to sales team on sales performance, customer's trends, margins, and alignment.
Collaborative CRM: Helps the company compile the information collected in different departments to improve the quality of service delivery.
Campaign management CRM: it combines the information gathered by both the operational and analytical CRM.
What are the features of CRM in Pharmaceutical Industry?
Companies' success is to a large extent determined by the relationship management with their customers. This relationship can be strained if the company is dealing with the sales team who are ever on the move. Thus, it is important to have a CRM system that can help collect, store and analyze data that is collected by the sales team. With this in mind, there are some features that are very critical to have in your system.
You may like to read: Top Pharmaceutical CRM Software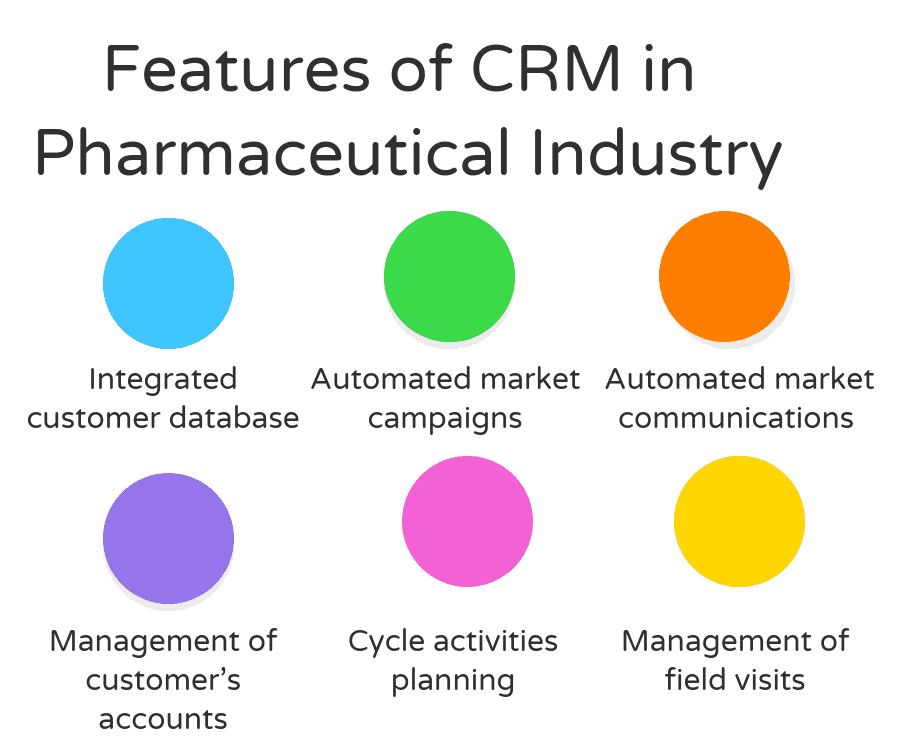 Integrated customer database: The CRM should be able to store all the customers' information in a database irrespective of who the client interacted with. This helps the sales team to save time since they only need to log in to a system to check information about their contacts and the communication history. It also ensures the data is cleaned up regularly and is up to date.
Automated market campaigns and communications: A good system should be able to automate all the activities involved with marketing and promotion of pharmaceutical products. This will enable the sales team to reach to as many people as possible by having a planned and well-coordinated marketing activity.
Management of customer's accounts: The system helps in identifying the key clients and develops sales models that target each client. The sales team are able to offer personalized services as they are already aware of customer's needs and preferences.
Cycle activities planning: CRM software facilitates planning of sales activities among the sales rep. this makes it easy to schedule visits as well as generate reports from the planned schedules
Management of field visits: The sales reps are able to access information whether they are in the field or at the office. This enables them to have access to client's database which they can use to schedule a visit and plan other important activities.
What are the benefits of CRM in Pharmaceutical Industry?
For an organization to thrive, it must take good care of its customers. This means relationship management is important if you want to retain and attract more customers. CRM software comes with tools that make it easy to manage customer data. A well-managed data helps one to identify clients, understand their needs, and come up with ways of assisting them. The following are some of the benefits that can be derived from a CRM tool.
Creates a strong connection with customers: The system helps organizations have a better understanding of their customers. With the system in place, staffs get a better understanding of the current status and history of the client's relationship with the company. Armed with this information, they are able to meet and surpass client's expectations.
Promotes efficiency in the organization: The system helps to automate workflow that ensures a task is performed to completion and necessary action communicated to the respective audience. Staffs are able to share vital information from improved communication and as a result, boost productivity in an organization.
Helps conduct business from anywhere: The system enables people to conduct business from anywhere. Mobile apps help staff access client's data and easily manage their accounts, respond promptly to their queries as well as react to new leads. This means customer service is real time.
Improves customer service: Sales reps are able to respond to customer queries within the shortest period. In case of past queries, the staff can easily access the information stored in a database and sort out the problems without inconveniencing the clients. Great experience will always keep the customer hooked on your company.
Improves data analysis and reporting: CRM system ensures all data are stored in one place. As such it is easy to analyze stored data and generate reports used in decision making.
How to Select the Best CRM Software for Pharmaceutical Industry?
You may like to read: Top Pharmaceutical CRM Software
Before selecting the kind of CRM software you want to have in your company, first, you should understand how the system works and benefits associated with it. In a nutshell, the key focus of the system is to attract and retain the best customers. As such it's important to choose a system that will help you understand the needs of your existing customers and new prospects.
What do you want to achieve in your business: Clearly analyze the goals of your company and determine what you want the system to achieve. Have a clearly defined path that you want your business to follow and consider how the system will assist in reaching there.
Staff involvement: After setting your goals, identify how the software will be used to achieve the goals you have in mind and who will be involved in the implementation of the software. Let the staff be part of the decision making process. This ensures that they have owned up the system and they also share vital information that will make the implementation process smooth.
Compare with existing software: This is important because it helps one choose software that can be easily integrated with the existing software. The employee will be more comfortable using a software that can easily integrate with the existing system since there will be business continuity.
Conduct a test drive: Before making the purchase, let all involved users carry out test-drives of the proposed system. By having the end users involved in the final selection, it gives assurance that the new CRM will be adopted by the company.
What are the best practice for CRM in Pharmaceutical Industry
Investing in a CRM solution is not enough for your organization to succeed. The system has to be rolled out and properly implemented for a company to benefit. This calls for the company to have strategic plans in place before rushing to install the system. For CRM to be effective here are some of the best practices that ought to be observed.
You may like to read: Top Pharmaceutical CRM Software
Respect the privacy of your customers: All data collected should be treated as private and confidential. Ensure access to data is only from authorized personnel. Sharing customer's data without their authority amounts to the breach of their rights. This can even lead to loss of business from your loyal customers.
Have constant communication with your clients FDA approved and fulfilled: Frequent communication helps a company identify key areas that need to be attended to and or improved. Sharing information with all the parties involved boosts efficiency and helps to eliminate any misunderstanding that would have cropped up. It also shares new insights and new trends in the market that can be used to make the company more competitive.
Give more focus on the business: CRM system has been designed to deal with the business process, not the technology. The system is designed to create a customer-centric environment and the technology should be used to support this process. As such technology should not take center stage in your system operation.
Have a well-crafted change management process: Introducing new system means there will be change on how the officers will conduct the business. Many people fear change and will try to resist anything that is affecting the normal operation of their activities. Appoint a champion who will assist the staff to accept and embrace the new system. The champion should be able to outline the benefits associated with the new system and address any fear the team would be having regarding the change.
Training and development: Ensure the team involved are constantly trained in order to keep up with the emerging trends. The team should be committed to seeing the success of the system.
Here are the trending and the top rated Top CRM Software Pharmaceutical for you to consider in your selection process:
You may like to read: Top Pharmaceutical CRM Software
Top CRM Software Pharmaceutical
PAT Index™
You may like to read: Top Pharmaceutical CRM Software
Here are the trending and the top rated Top CRM Software  for you to consider in your selection process:
Top CRM Software
PAT Index™