How to Select the Best Cloud ERP Software for Your Business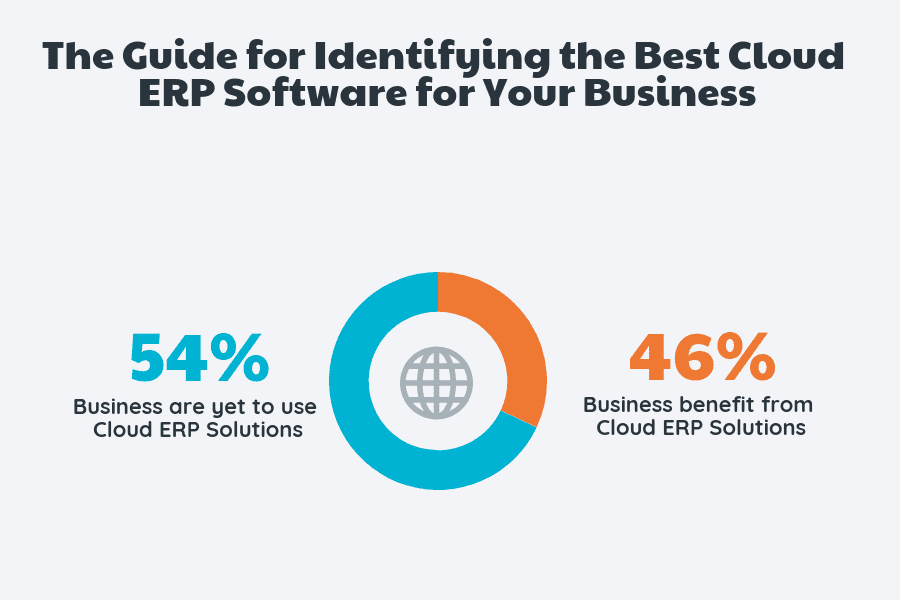 Implementing a Cloud ERP system can be a challenging project for any organization. It can impact nearly every aspect of your business and involves heavy investment of human and capital resources.
An estimated 75% of businesses around the world run applications in private and public clouds. Cloud ERP platforms account for an estimated 13% of systems that have been implemented over the last four years. This figure is likely to increase due to the increasing popularity of cloud software. Organizations that want to leverage the power of the Internet should consider implementing Cloud ERP solutions.
Cloud based Enterprise resource planning (ERP) is business process management software in cloud that allows an organization to use a system of integrated applications to manage the business and automate many back office functions related to technology, services and human resources.
ERP systems track business resources such as raw materials, finished products, production capacity and the status of business commitments such as production orders, purchase orders, and payroll. The applications that make up the system share data across various departments such as manufacturing, purchasing, sales, accounting. ERP facilitates information flow between all business functions and manages connections to outside stakeholders.
What are Cloud ERP Software?
Before defining what cloud based ERP software is, it is important to first define cloud computing. According to the National Institute of Standards and Technology (NIST), cloud computing refers to "a model for enabling on demand network access to a shared pool of configurable computing resources that can be rapidly provisioned and released with minimal management effort or service vendor interaction". This model can be utilized as Software as a Service (SaaS), Platform as a Service (PaaS) and Infrastructure as a Service (IaaS).
For Cloud-based ERP software, the widely used model is SaaS, commonly referred to as ERP SaaS. It means that the Cloud ERP solution is delivered as a service and not as infrastructure in the client's premises.
The term SASS was coined during the late1990's when discussions about offering software as a service emerged. Unlike the application service provider (ASP) model, SAAS provides much better value through resource sharing, centralized data and standardization of processes.
The difference between cloud-based ERP software and on-premises software is that for the cloud-based solution, data can be accessed over the internet from anywhere and at any time, while for the latter, data is only accessible from the client's physical storage infrastructure and not on the go. Further, cloud-based ERP solutions are offered on a subscription model, which means you pay for the service on a monthly or annual basis.
With advancements in technology in the cloud computing space, there has been increased interest among business owners who now want to adopt some of the services being offered on the cloud. Businesses can benefit from the adoption of such a cloud service in terms of costs, delivery of services, etc. On the other hand, cloud-based ERP vendors can gain a competitive edge over other vendors since they are offering a more advanced solution, which offers speed, flexibility, and convenience when it comes to accessing data.
You may like to read: Top ERP Software, Free, Open Source ERP Software, Top ERP Software for SMB, Top Cloud ERP Software, ERP Software for Large Business.
What are the benefits of Cloud ERP Software?
There are a number of benefits that one can reap from cloud based ERP software.
Reduced costs: One of the major benefits of cloud ERP is that it is less costly to adopt and to maintain. Unlike a standalone ERP solution, cloud ERP is offered over the Internet and so no physical IT infrastructure is needed. Hence, costs related to implementing such a solution are much lower. Additionally, the presence of many ERP providers only means that you are protected from inflated prices thereby reducing the cost of entry. Moreover, no assembly or programming work is needed to implement this service and so the time and cost of penetrating to new markets are reduced.
Ease of maintenance and upgrades: Users of cloud-based ERP solutions are freed from effecting server upgrades and other computing issues. Service providers normally update the cloud ERP system every few months without the need to create new releases. This is highly convenient for organizations as it enables them to focus on other business processes such as sales and marketing, which can help drive business growth.
Security and accessibility of data: Since these applications are based on the internet, business data is accessible from anywhere in the world and at any time. Furthermore, cloud ERP systems employ advanced security measures to ensure business data is sufficiently encrypted and protected. Business owners and managers are also able to control how and track movement of data to encourage user accountability.
Real-time analytics: Many time, business have to make informed decisions on many different things. However, this is not the case as many businesses do not have data on which to base their decisions. With cloud ERP solutions, businesses are able to streamline business processes because information can be accessed instantaneously. This is significant for businesses, particularly, those in the manufacturing industries where real-time analytics is essential in optimizing processes.
Rapid innovation: A cloud-based ERP solution can allow startups to launch new products and services more quickly and at lower costs. This enables them to compete with established organizations more effectively. Increased competition stimulates more and more innovations from which companies stand to benefit.
What are the disadvantages of Cloud ERP Software?
With the adoption of any technology, some disadvantages usually arise. Highlighted below are some of the disadvantages that come with the implementation of a cloud-based ERP solution.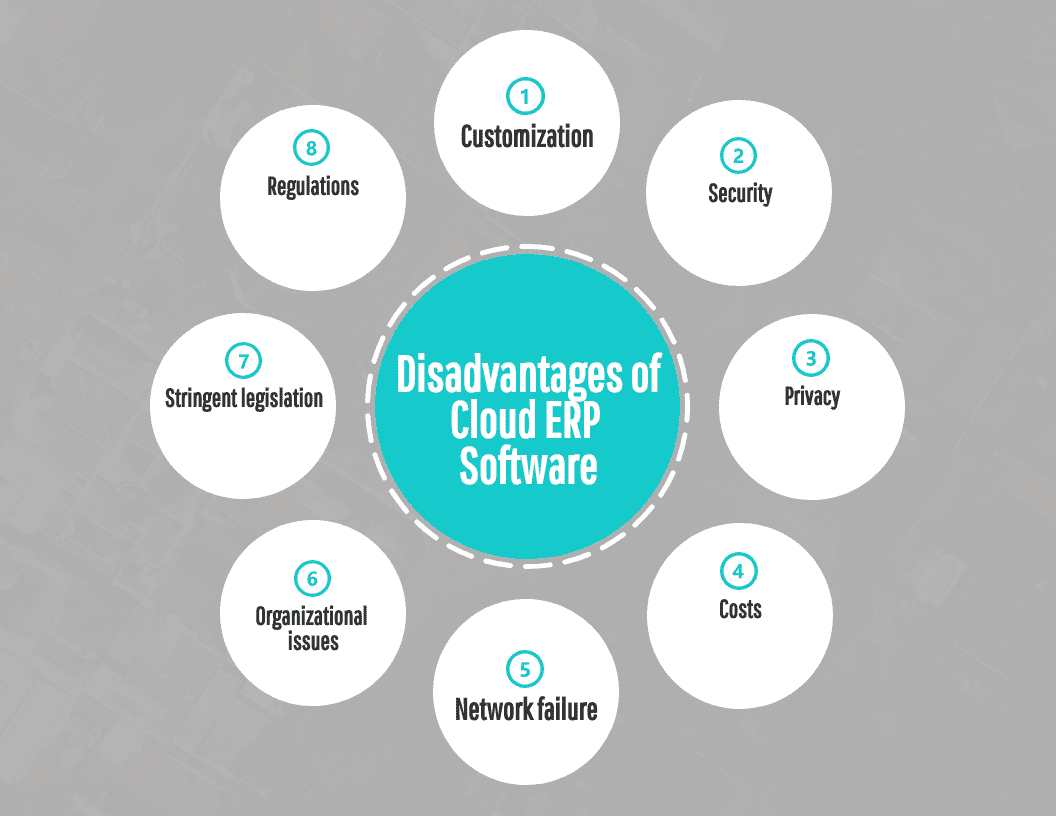 Customization: Although cloud ERP based software is easier to implement and quicker to adopt, this happens at the expense of customizations, since it is hard to tailor configurations according on business requirements. This reduces the flexibility needed when aiming to creating a solution for the varied business requirements of the organization adopting an ERP system. Failure to address such issue can lower the rate of cloud-ERP adoption.
Security and privacy: Security tends to be a number one issue when it comes to any software implementation. Several concerns over security have been raised by potential clients of such software, who are not comfortable with having sensitive corporate data stored on servers maintained by other parties.
Costs: The cost of implementing cloud-ERP solutions is two-fold. On one hand, cloud-based ERP solutions are cheaper to adopt and they also lower operational costs. On the other hand, the annual subscriptions costs can pose a huge challenge for many startups, which may not have enough capital to cater for such costs.
Network failure: Many organizations require their systems that are considered critical to business processes, like ERP solutions, to be up and running 24/7. Therefore, any network failure can hamper business operations that directly depend on data stored on the cloud.
Organizational issues: There are organizations that will find this system not suited to the nature of their organizational structure. Additionally, organizations that hinge their survival on secrecy and confidential data are not likely to adopt a cloud-based ERP solution.
Stringent legislation and standards: One of the challenges of adopting ERP systems is the many standards and regulations that business must comply with. Most of these regulations do not capture the uniqueness of cloud-based ERP solutions making it difficult for businesses to adopting them.
How to Select the Best Cloud ERP Software for Your Business
When a business is looking to adopt a cloud-based ERP, there are a number of factors that they need to consider. But the underlying idea is that the right solution for your business totally depends on your business requirements. We have highlighted a few things below that can help you in selecting the right ERP software.
Business requirements: There are so many providers who have popped up in the field of cloud-based services because of the booming market for such services. Hence, finding the best can be a challngefor businesses. It is advisable you check whether the software's functionalities meet your business requirements. Ratings and reviews can also help.
Costs: Due to the popularity and viability of cloud-based apploications, many organizations are realizing the value of such technologies. Many cloud-based service providers are dropping costs to attract clients. While this is good for businesses, they ought to be cautious because what is cheap today can turn out to be expensive in the long run. Additionally, small-scale providers offer services at a fraction of the cost established providers charge. But don't let the costs deceive you as, many a time, they offer far-better services mainly because they want to build a clientele base. However, their scope can be limited because they tend to specialize in one area. Therefore, it is important that you choose one that fits well with your business requirements regardless of prices.
Support services: Check also their support services because you might find that some don't provide support and maintenance services afterwards. This will help you avoid situations where you have to contract another provider to do maintencance work.
Ease of use: It is important for businesses to choose a user friendly cloud-based ERP solution as this can help reduce the time it takes to deliver products and services. The system should allow mangers and staff to easily access information they need, wherever and whenever they need it. The system should not be complex so that if a business hires new staff, it should take them only a little bit of time to master how the system works.
Provision for data migration: Business needs change rapidly and a company that adopted a cloud-based ERP solution initially may want to switch to on-premises software. Therefore, a business should consider getting a vendor who offers flexibility in terms of migrating data, and one who would be willing to help them manage the entire process.
Security: It is important for a business to take into account the security measures of the cloud-based solution. Data security is a very sensitive issue especially in terms of such risks as hacking, and so a good cloud-based ERP solution should have advanced security measure in place when it comes to data storage, access, and so on.
Compatibility and scalability: It is important for a business to look for a provider that offers a cloud-based service that allows for multiple integrations with existing systems such as CRM and business intelligence software.
Here are the trending and the top rated Top Cloud ERP Software for you to consider in your selection process:
Top Cloud ERP Software
PAT Index™
Conclusion
With more and more businesses being established daily and with the digitization of business processes, companies will need to implement such solutions as cloud-based ERP software in order to remain competitive. If you consider also the fact that business is becoming more data centric, organizations will need solutions that can help manage their data. Since cloud-based ERP solutions are cost-effective, fast and more easily scalable than on-premises ERP systems, they are more convenient to use.
You may like to read: Top ERP Software, Free, Open Source ERP Software, Top ERP Software for SMB, Top Cloud ERP Software, ERP Software for Large Business.