Review
HomeBank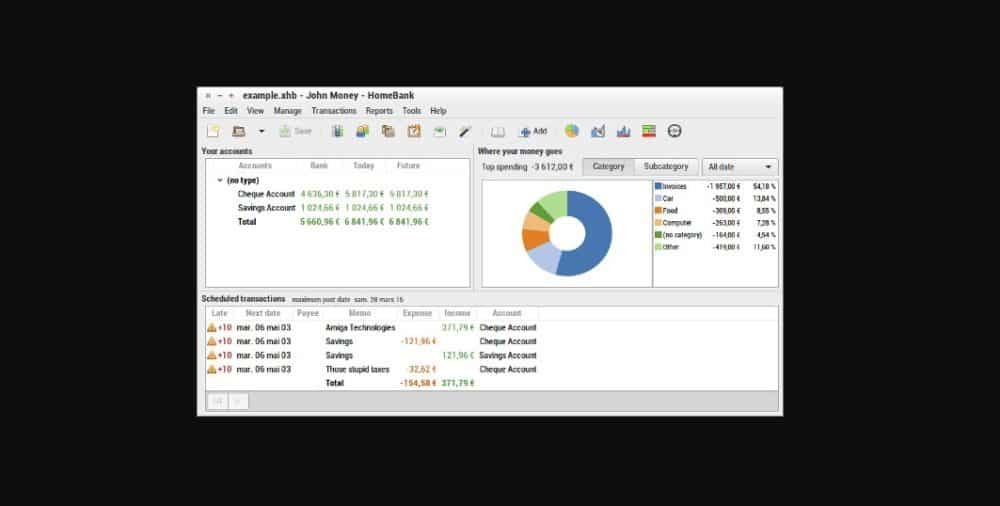 Overview
HomeBank is designed to easy to use and be able to analyse your personal finance and budget in detail using powerful filtering tools and beautiful charts.
Personal Finance Software Free
• Cross platform, supports GNU/Linux, Microsoft Windows, Mac OS X
• Import easily from Intuit Quicken, Microsoft Money or other software
• Import bank account statements (OFX, QIF, CSV, QFX)
• Duplicate transaction detection
• Automatic cheque numbering
Small (<50 employees), Medium (50 to 1000 Enterprise (>1001 employees)
What is best?
• Various account types: Bank, Cash, Asset, Credit card, Liability
• Scheduled transaction
• Category split
• Internal transfer
What are the benefits?
• Month/Annual budget
• Dynamic powerful reports with charts
• Automatic category/payee assignment
• Translated in around 56 languages
HomeBank is a free personal finance software to help you manage your personal accounting. It boasts of more than 19 years of user experience and feedback. In addition, it's been translated by its users in approximately 56 languages. It's simple to use, and is able to analyze your personal finance and budget in a detailed way. It analyses your personal finance using some powerful filtering tools with beautiful charts. With HomeBank you can manage your personal accounting, budget, finance, at no charge at all since its completely free.
You can access HomeBank on most common devices and operating systems like Microsoft Windows, GNU/Linux, FreeBSD, and was ported by 3rd party to MacOSX, and Nokia N***.Easily import your accounts from Quicken or Microsoft Money, and many other financial management programs. Supported file formats includes QIF, OFX, QFX, and CSV.HomeBank will detect and identify the duplicate transactions and will enables you to choose what to do.Repartition or time reports, you will find one to analyse what your are lookig for.
Also track the budget, or check the balance for any overdrawn, even knows your vehicle costs and fuel consumption.