Review
Help Scout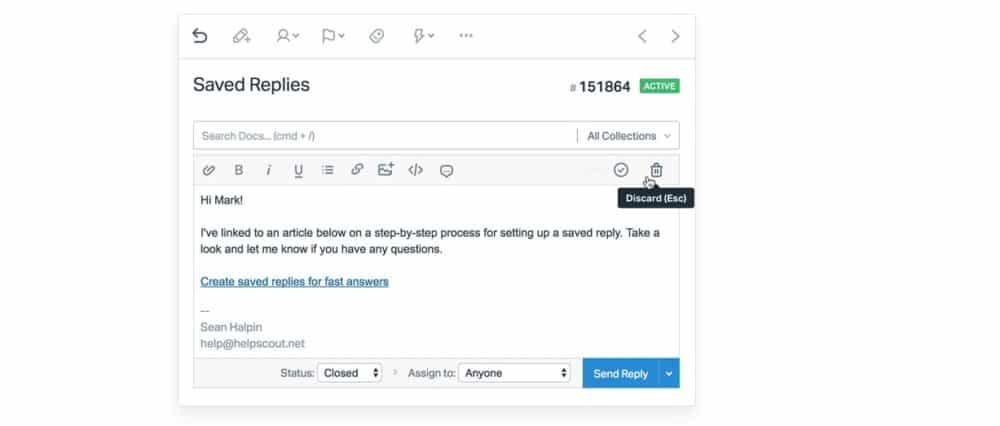 Overview
Help Scout provides your team with a scalable help desk, while keeping the customer experience simple and personalized. Customers won't have to create an account or keep track of their ticket number because to them it works just like email.
• Knowledge base
• Embed tools
• Integrations
• Reports
• Automation
• Teams
• iOS Apps
• Android App
• Basic Plan – $8/user/month (billed annually) or $12/month (billed monthly)
• Standard Plan – $15/user/month (billed annually) or $20/month (billed monthly)
• Plus Plan – $27/user/month (billed annually) or $35/month (billed monthly)
Small (<50 employees), Medium (50 to 1000 Enterprise (>1001 employees)
What is best?
• Knowledge base
• Embed tools
• Integrations
• Reports
• Automation
Help Scout help desk lets you create multiple mailboxes for each shared email address so you can work seamlessly across departments, or manage several products/brands from a single account.
Help scout's collaboration features support teamwork and increases productivity. Help Scout Webhooks give you real-time alerts and notifications when people are viewing or replying to the same conversation. Tags enable you to categorize conversations, monitor trends and trigger Workflows. Help Scout lets you create replies that you can save and insert in replies to commonly asked questions. Another collaboration tool is email notes that can be shared using @mentions to engage specific team members privately.
Help Scout Workflows help you automate repetitive tasks by filtering emails using if/then logic helping you assign tagged items or items containing certain keywords to be handled by a specific team or team member. Help Scout features editable customer profiles that contain their personal information and entire history with your company.
Help Scout has live chat embedded and it can seamlessly integrate with services like Olark and Snap Engage so that every chat is automatically stored in the customer's profile. Integration with Salesforce enables you to import customer activity details from Salesforce empowering you to offer quality service.
Help Scout voicemail integration helps you to parse incoming voicemails from 50+ different providers and also allows you to log phone calls to customers' profiles easily. Help Scout gives you actionable insights from its reporting console which contains filters data by conversation type, mailbox, tag, or folder.
Help Scout Views allow you to save a set of filtering conditions and re-visit the report at any time. Help Scout delivers security and reliability by offering maximum uptime, full HIPAA compliance, PCI compliance, and SSL encryption that protects all your company data.