Review
Haufe Talent Management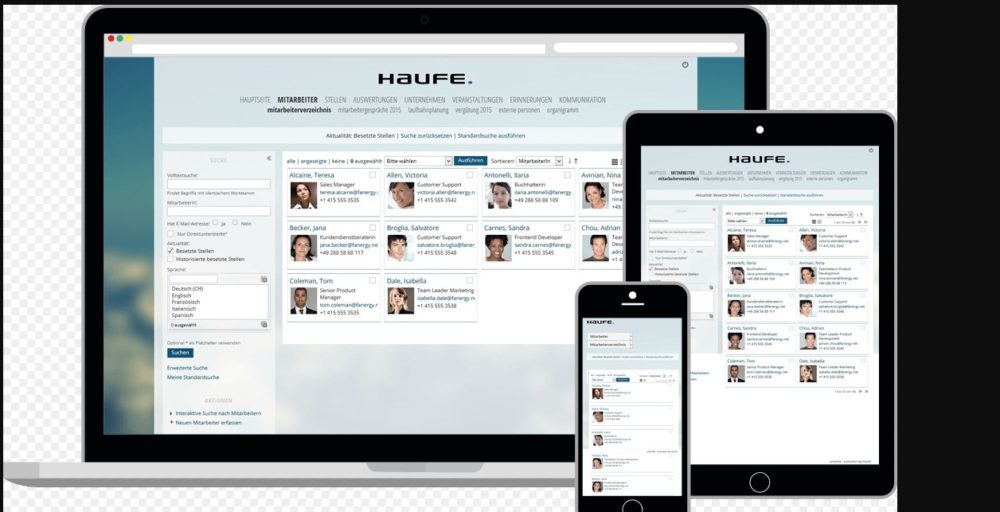 Overview
The Haufe Talent Management Solution allows you and your organization to concentrate on the most important goals. You will enable smooth cooperation between HR, management and employees and sharpen the focus on effective collaboration
Talent Management Software
• Paperless applicant management
• E-mail templates
• Line corkpit tool
• Job ads
• Centralized database
• Centralized data evaluation
• Internal and external training programs
• Cluster job profiles
• Talent pools
• Personalized e-learning
Small (<50 employees), Medium (50 to 1000 Enterprise (>1001 employees)
What is best?
• Paperless applicant management
• E-mail templates
• Line corkpit tool
• Job ads
• Centralized database
• Centralized data evaluation
• Internal and external training programs
What are the benefits?
• Train and develop employees through personalized e-learning
• Receive job applications submission within 90 seconds
• Schedule an interview with prospects in 10 minutes
• Search for specific internal talent though talent pool tool
• Store files in a centralized database
• Make informed decisions by aid of centralized data evaluations
• Enhance smooth running of HR, managers and employees activities
Haufe Talent Management software enables smooth running of organizational activities between HR, managers and employees. The main key areas are catered for; applicant management, personnel development, training and development, goal setting, compensation and succession planning. The paperless application system is swift and simple.
The application is submitted within 90 seconds, enabling you to set an interview within 10 minutes with potential candidates hence a good first impression. Centralized data base further enhance Smooth Corporation between the HR and managers as candidate data such as profile, testimonials and documentations are readily available and is not limited to place. Built- in centralized data evaluation gives informed, experienced analysis on candidates in order to ease your decision making on the right candidate for a particular post.
The software enables leverage of new projects through personnel development which allows employees to keep updates on their experience and skills. This also keeps the goals and objectives of the organization intact as it focuses only on relevant competencies.
Talent pools enable the organization to search for persons to involve in internal current projects, seamlessly. Internal and external training programs enable managers to train employees in-house as well as monitor performance of each employee and progress. Whether you are dealing with registration, informing participants or measuring the effectiveness of the program, online training management is at your disposal. The system focuses on key positions, identify risks in personell, determine effective, potential leaders, making it easy for you to manage and prepare for succession by developing and monitoring potential future leaders in the organization.
You may like to read: How to Select the Best Human Resource Software for Your Business and Top Talent Management Software