HARMAN and Hortonworks to Deliver Connected Car Prognostics Solutions for Automotive Market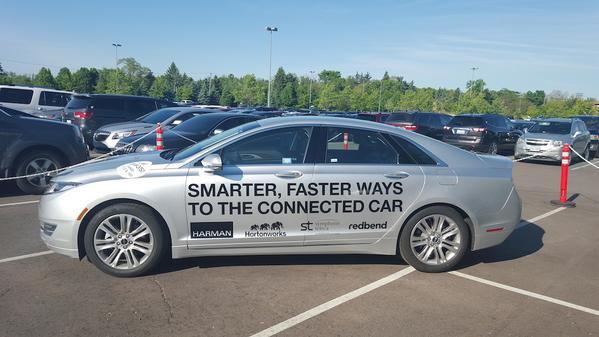 HARMAN and Hortonworks to Deliver Connected Car Prognostics Solutions for Automotive Market : Hortonworks, the leading contributor to and provider of enterprise Apache Hadoop via the Hortonworks Data Platform, and HARMAN , the leading global infotainment, audio and software services company, announced a joint collaboration to transform the automotive enterprise by enabling the connected car ecosystem with real-time, Internet of Things (IoT) data, insights and prognostics solutions. The widespread adoption of connected devices is accelerating. Gartner Research expects 25 billion installed devices by 2020. Together, Hortonworks and HARMAN will offer solutions to help automotive manufacturers gain valuable insights by analyzing real-time information based on data streaming from connected cars. HDP processes the sensor data from the connected car – collecting it, storing it and analyzing it – from real-time alerts on driver behavior, road safety or the need for maintenance and repairs. Additionally, HDP can provide a single view of this data to inform automotive engineers about driving behavior, safety risk and car performance across all vehicles. With HDP, connected car data can be stored in any format for processing, and integrated easily with existing data architectures through a full range of deployment options.
HARMAN and Hortonworks will collaborate to seamlessly integrate HDP functionality into HARMAN's cloud-based offerings, giving automotive OEMs a feature-rich enterprise platform to support value-added user experiences. HARMAN's suite of services for automakers supports an end-to-end approach to upgrade, connect, and improve the automotive ownership experience. Incorporating offerings from HARMAN's Symphony Teleca and Redbend companies, HARMAN is the first tier 1 automotive supplier to enable the full range of IoT and V2X applications for the connected car, including deployment of software through over-the-air (OTA) updates, diagnostics and telematics to big data, service management and analytics – all done securely and seamlessly.
Key Benefits for Automakers include Preventative Warranty Maintenance, Data Discovery for Product Improvements and A Single View of Manufacturing Operations.
Preventative Warranty Maintenance: Analyze streaming data from connected cars for fault monitoring, predictive analytics on component failure and recommendations for preventative maintenance to minimize warranty expense and the risk of costly recalls.
Data Discovery for Product Improvements: Analyze driver habits and correlate that with car performance and maintenance records to give your engineers empirical insights on how to optimize existing and future models.
A Single View of Manufacturing Operations: Capture sensor data from manufacturing operations and store it forever, providing real-time and historical analysis to maximize quality yields and minimize the risk of scrap or recalls.
"The automotive sector is rapidly transforming with real-time information and insight from connected cars," said Hortonworks President Herb Cunitz. "Through our collaboration with HARMAN and its Symphony Teleca team, Hortonworks is positioned to drive this transformation by leveraging our expertise in delivering world-class, modern data analytics with the Apache Hadoop framework."