H2O.ai Machine Learning Available to IBM Bluemix Data & Analytics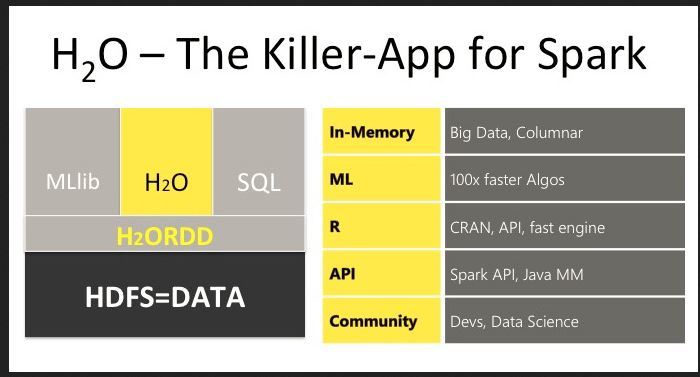 H2O.ai, announced the company is working with IBM with the aim to bring its machine learning and deep learning technology to a growing community and to strengthen ties between the Spark and R communities. H2O.ai has already led the development of Sparkling Water, an API for Spark that allows users run the H2O machine learning platform on top of Spark.As part of this collaboration, H2O's machine learning capabilities will be made available through IBM's Data Science Experience. Users will be able to use either a R, Python or Scala interface to invoke H2O's Machine Learning and Deep Learning algorithms for data analysis and then execute the corresponding job or application on a Spark cluster. H2O.ai will work with IBM as an ecosystem partner to build relationships within the open analytics community and make it easier to build solutions.
"AI is core to all software. H2O is transforming vertical businesses with beautiful data products to serve their ecosystems," said Sri Ambati, CEO & Co-founder of H2O.ai. "Sparkling Water brings best of breed open source machine learning to the Apache Spark Communities with MLlib and Apache SystemML."
"Machine learning has become indispensable when it comes to big data analytics regardless of the solution used – Hadoop, Spark, R or anything else," said Ritika Gunnar, Vice President, Offering Management, IBM Analytics. "Working with H2O.ai allows us to bring an ecosystem of machine learning technology to the Spark community. Data scientists and engineers need to have choices they are comfortable with – and with H2O as well as Apache SystemML, they have that."
In addition to making H2O's Machine Learning capabilities available through the IBM Data Science Experience, IBM will help ensure that H2O's machine learning capabilities are compatible with IBM Bluemix Data & Analytics to make data available to H2O.
H2O.ai is the maker behind H2O, the leading open source machine learning platform for smarter applications and data products. H2O operationalizes data science by developing and deploying algorithms and models for R, Python and the Sparkling Water API for Spark. Some of H2O's mission critical applications include predictive maintenance, operational intelligence, security, fraud, auditing, churn, credit scoring, user based insurance, predicting sepsis, ICU monitoring and more in over 5,000 organizations.
You may also like to read, Predictive Analytics Free Software, Top Predictive Analytics Software, Predictive Analytics Software API, Top Free Data Mining Software, Top Data Mining Software,and Data Ingestion Tools.
Top Predictive Lead Scoring Software, Top Artificial Intelligence Platforms, Top Predictive Pricing Platforms,and Top Artificial Neural Network Software, and Customer Churn, Renew, Upsell, Cross Sell Software Tools
More Information on Predictive Analysis Process
For more information of predictive analytics process, please review the overview of each components in the predictive analytics process: data collection (data mining), data analysis, statistical analysis, predictive modeling and predictive model deployment.