Review
gtmhub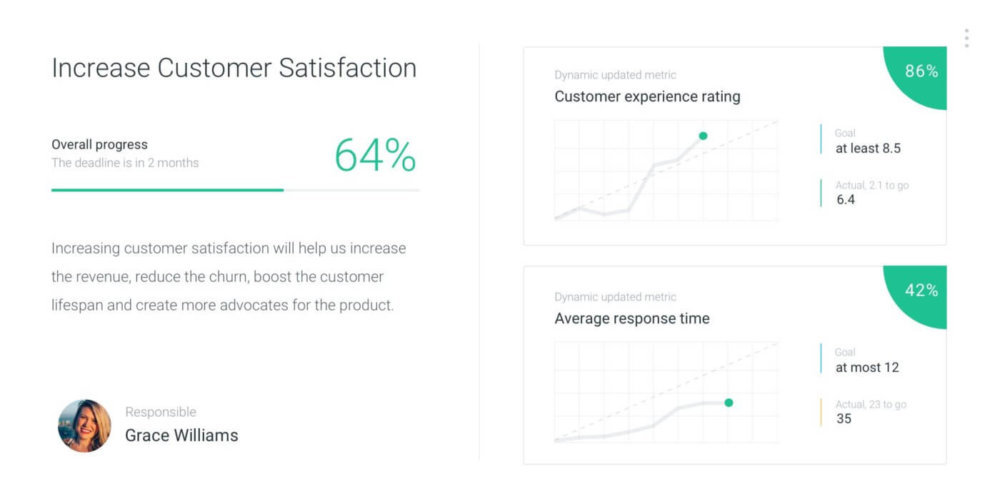 Overview
Gtmhub lets you keep score and chart your progress by assigning real-time metrics to your goals.Gtmhub keeps you in the loop, warning you if anything needs your attention.
Business Intelligence Software
•Write Reports in SQL
•Access Data Online
•Automated Emails
•Sync Google Sheets Data
•Transform Data On-Demand
•Get Your Own Reporting Database
•Startup Free
•Basic $19/month
•Pro $32/month
Small (<50 employees), Medium (50 to 1000 Enterprise (>1001 employees)
What is best?
•Write Reports in SQL
•Access Data Online
•Automated Emails
•Sync Google Sheets Data
What are the benefits?
• Aligning goals of individuals with those of the business
• Set clearly defined goals, and give employees opportunities for growth.
• integrating all the business systems and updating OKRs automatically
• Easily track and quantify
• Visualize key results from your IT systems
• Remove friction with Data-driven OKRs
gtmhub provides solution for businesses regardless of what industry it belongs to. Users will be able to work and manage operations with the right strategy based on information gathered from Gtmhub. With its Automation with triggers and actions, a company will be able to automate day-to-day business actions based on the goal attainment or deviations.
gtmhub also provides Data warehouse for all of the company's data, whether they are structured or not. users also get full ETL and tens of integrations. gtmhub's all-in-one alignment solution ticks boxes right across the board, integrating with just about every system under the sun to set goals, deliver insight, and monitor progress.
To ensure that everybody in the team are given the right task and that they are being productive, gtmhub aligns every department within the organization and make sure they are on the same page with the with insights, metrics, and progress reports.
Define business goals and track progress of each and everyone in the team. Analyze the results with Gtmhub, with its all-in-one alignment solution. With gtmhub's operational insights, production process are more effective and on time. Set goals, monitor progress, analyze trends and assign responsibilities directly from the InsightBoard.
Pull data from SaaS systems, files, and internal databases and set goals with customized metrics and tailor-made entities. This means that there would be less of guesswork and that only the right information are utilized to ensure productivity for the business. And with customized metrics, real-time insights, and advanced goal-setting features from Gtmhub, it helps the users manage any strategy with an ease.
You may like to read: Open Source, Free and Top Dashboard Software and How to Select the Best Dashboard Software for Your Business