Review
GroupSpaces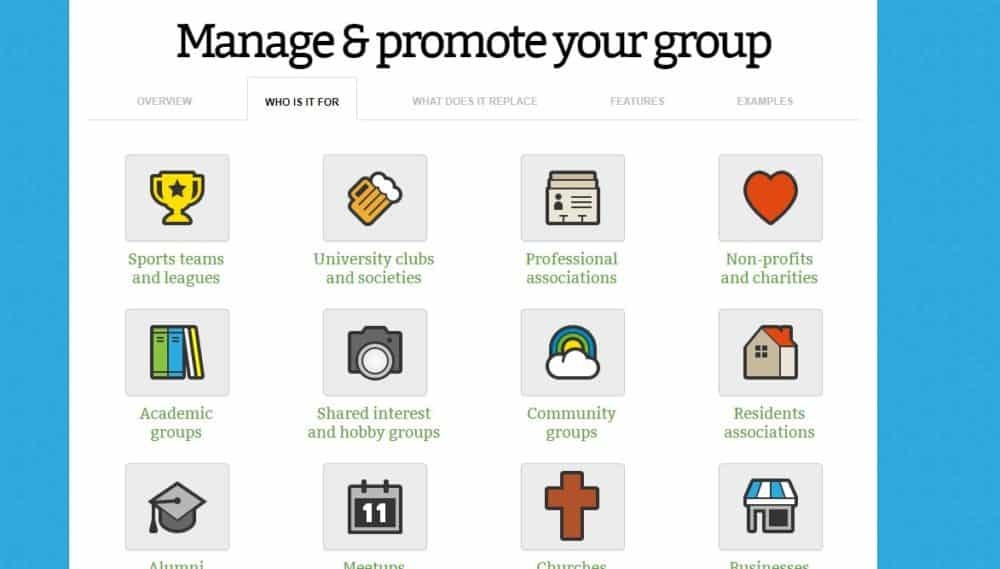 Overview
GroupSpaces can help you save time on boring administration tasks and put the fun back into being part of a thriving group.
Membership Management Software
• Event manager
• Custom newsletters
• Forums and wikis
• File repository
• Member database
• Membership forms
• Email subscriptions
• Group mailing lists
• Email archive
• Group website
• Send invites and RSVPs
• Payment integration
• Custom domain
• File storage
• Email statistics
• Ultimate - £59.99/month
• Premium - £29.99/month
• Pro - £12.99/month
• Starter - £8.99/month
Small (<50 employees), Medium (50 to 1000 Enterprise (>1001 employees)
What is best?
• Event manager
• Custom newsletters
• Forums and wikis
• File repository
• Member database
• Membership forms
• Email subscriptions
What are the benefits?
• Take full control over all aspects of running your group, or share the responsibility with other managers
• Save yourself time and give your members a better experience
• Easily connect with members from wherever you are
• Update your own details and keep full control over what you share
• Create a beautiful homepage, to entice new members to join
GroupSpaces is a complete suite of tools that facilitates easy management of an online group. The tools provided by GroupSpaces are efficient, powerful and fully featured to provide a perfect balance required for an easy and efficient management of an online group.
GroupSpaces provides six main features for event groups that are unique, simple, and easier to get things done. Some of the main features of GroupSpaces are; an online home, powerful member database, fast and easy communication, organizing events and sell tickets, collect payments, and share files and photos. The online home feature enables free creation of a group to be used as your website, uploading of your logo, and choosing of themes and customizing everything. The powerful member database provided by GroupSpaces facilitates secure online storing of your member details and letting your members update their info, therefore saving you time.
The powerful member database also provides a good platform for creation of membership forms, organizing your members' lists, creation of member profiles and, restricting access to parts of your group. GroupSpaces facilitates fast and easy communication by providing an excellent platform for creation of e-mail discussion lists for the sub-groups of your members and letting them reply right from their own e-mail apps. Fast and easy communication is also achieved by GroupSpaces facilitating quick and easy creation of beautiful newsletters, and tracking the members' success with the e-mail statistics. GroupSpaces organizes events and sell tickets.
This is achieved by GroupSpaces facilitating promotion of the upcoming events to your group and posting them to your external website or even Facebook. GroupSpaces also enables asking members to answer questions and collecting and managing their responses. GroupSpaces enables setting up of subscriptions by use of recurring reminders and tracking the time of payment. GroupSpaces also facilitates uploading, storing, and sharing of files with your group members.
You may like to read: Top Free & Premium Association Management Software (Membership Management Software) and How to Select the Best Membership Management Software for Your Business