Review
Grid Dynamics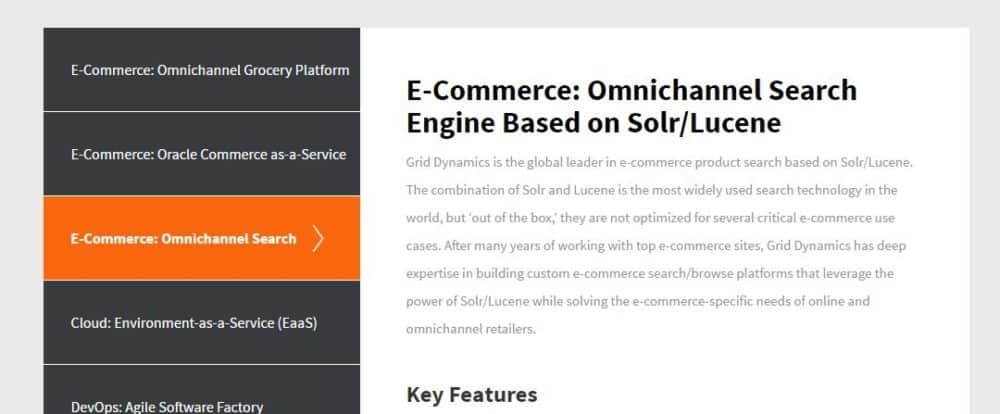 Overview
Grid Dynamics core services include: Big Data, QA Automation, Cloud Engineering, UI/ Full Stack Engineering, Release Engineering/ DevOps, Search Engine Development and Mobile Development.
Architectural services
Big Data Engineering Services
QA Automation
Cloud Engineering
Big Data Engineering Services
Search Engine Development
Mobile Development
Small (<50 employees), Medium (50 to 1000 Enterprise (>1001 employees)
Grid Dynamics is the engineering IT services company known for transformative, mission-critical cloud solutions for retail, finance and technology sectors. It is known to specialize in big data analytics, scalable Omni-channel services, DevOps, and cloud enablement. The four specifications of Grid Dynamics are "architect" which provide scalable, cloud-ready application blueprints, "develop" dealing with innovative and reliable cloud applications and services, "release" which introduces new features continuously with automated test pipelines and "operate" the mission-critical cloud applications & infrastructure.The architectural services provided by Grid Dynamics are blueprint development and customization, cloud readiness assessment and recommendations, new product and platform roadmap consulting, new platform pilots and technology POCs and ongoing architectural consulting and report.Other services provided for e-commerce include Big Data Engineering Services with key use cases in e-commerce and retail, internet advertising, telecommunications and other industries. QA Automation include testing services for all kinds of testing domains. Cloud Engineering has its key use cases in Enviornment-as-a-Service (EaaS), elastic production, cloud enablement, cloud optimization, continuous integration/continuous delivery (CICD), automated test environments and much more. UI/Full Stack Engineering specializing in web language. Release Engineering/DevOps having key use cases in developer self-service, continuation integration, continuous delivery, provisioning and deployment automation, test automation enablement, schema management, code reviews etc. Search Engine Development with its key uses in merchandising rules, Omni-channel and personalized search. Mobile Development provides full lifecycle support for mobile application development. Key services include mobile architecture design, manual testing, publishing and app monitoring.