Review
Gnip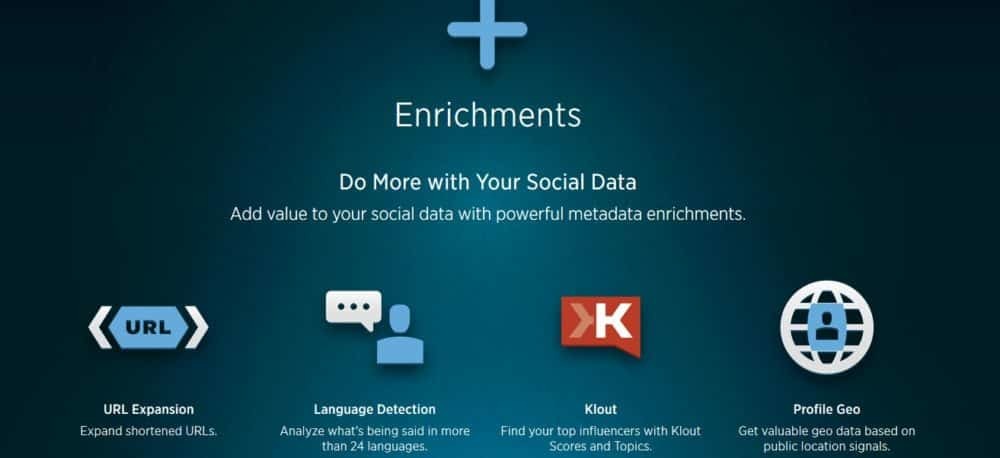 Overview
The suite of Real-time APIs provides a all signal and no noise policy that swifts the distractions out and makes the provision of data more convenient
Social Monitoring Software
•Data Collector
•Managed Access
•Real time trend detection and discovery
•Powerful filtering
•Complete Data coverage
Small (<50 employees), Medium (50 to 1000 employees), Enterprise (>1000 employees)
What is best?
•Data Collector
•Managed Access
•Real time trend detection and discovery
•Powerful filtering
•Complete Data coverage
Gnip is Twitter's enterprise API platform that enables businesses to unleash the power of social data. Gnip boasts a powerful real-time feature that provides data quickly at the time of need. The suite of Real-time APIs provides a all signal and no noise policy that swifts the distractions out and makes the provision of data more convenient. It also features a PowerTrack tool that offers powerful filtering. It also provides complete coverage of the data and ensures its delivery within the deadline. Decahose is a feature involved in Real-time Trend Detection and Discovery. It delivers a 10% sample of Tweets at a time. Its delivery of sample tweets in real-time help uncover trends that can impact businesses. Data Collector is a tool that is involved in management. The Gnip Data Collector simultaneously collects social data from multiple APIs, and allows the simplification and storage of valuable engineering resources. Go Back In Time is a feature that allows full fledge access to archives .
Historical PowerTrack provides filtered access to the full archive of public Twitter data. It enables the search and analysis of public Tweets — back to 2006. 30-Day Search API is a tool that provides quick access to the Last 30 Days of public Twitterdata. Full Archive Search API on the other hand provides quick access to the full archive. It helps in making the task of finding the exact Tweet that is required easier. The Insights tool provides deep insights into audiences and content on Twitter. It unlocks new business value for brands and various companies. Audience API is a tool concerned with task of delivering aggregate information about audiences in order to, make it easy to derive valuable insights on Twitter.