Review
Gatekeeper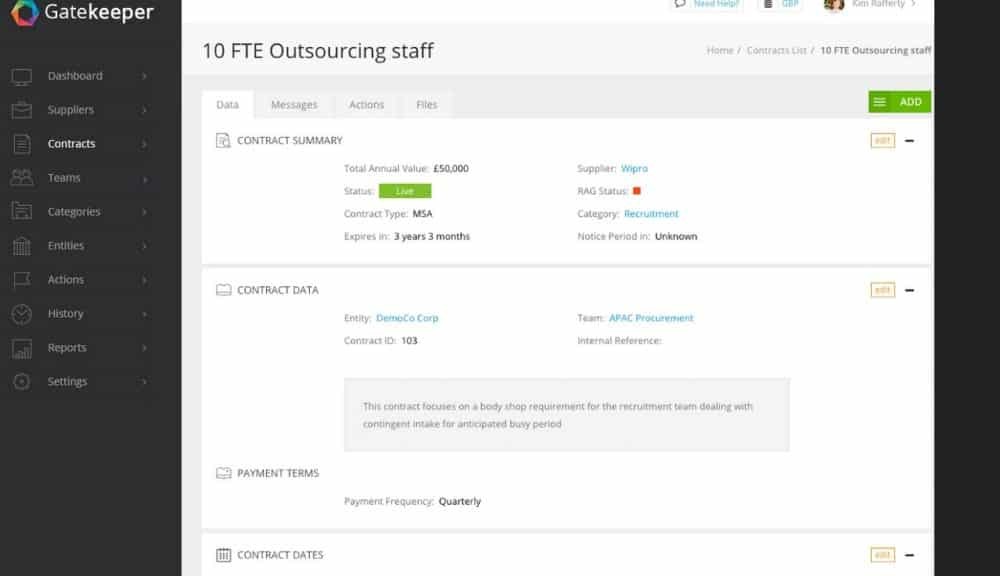 Overview
Gatekeeper manage complex relationships simply and easily. Clarify ownership and centrally store all intelligence, messages, dates and key documentation - all in one place, always up to date, company-wide
Contract Lifecycle Management Software
Seamless integration
Enterprise grade security
Multi-currency support
Unlimited storage
Powerful user management
Full searchable trail audit
Document Managemnt System
Customization of the system
Intelligent interfaces
RAG (Red-amber-green)
Can book a demo
30-Day Free Trial
Starter (Paid annually): It includes 150 Suppliers and 150 Contracts.
$450 a month
Pro (Paid annually): It includes 500 Suppliers and 500 Contracts.
$1050 a month
Enterprise (Paid annually): It includes 1000 Suppliers and 1000 Contracts.
From $2450 a month
Small (<50 employees), Medium (50 to 1000 Enterprise (>1001 employees)
Gatekeeper is a visible, controlled and collaborative software for Supplier and Contract management. It has a powerful search engine that help users find data quickly and easily from any view, a rag status that gives perspective to any major risk area, intelligent dates that change color as deadlines approach, and the possibility of export any view in any range of formats.
With gatekeeper, users won't ever miss another contract renewal. They can get automated reminders for contract renewals to make informed business decisions and on their own terms. In that way, they are taking back control from suppliers and maximizing cost saving opportunities.
Also, they will be able to collaborate effortlessly, as they can email directly from the system linked to specific suppliers to maintain a clear audit trail. As an extra, colleagues and suppliers can respond directly from their own email client without need to log in, simplifying communication between both parts.
Moreover, Gatekeeper's intelligent interfaces and summary areas help users consolidate negotiations under informed decisions, due to its centrally tracked and recorded processes.
Users will stop looking for Contract and Supplier documents due to these recorded processes. All supplier documentation is stored in the secure cloud and linked to the Document Management System.
Due to it, it is easy to share files and request key documents using the secure messaging platform. In addition, Gatekeeper minimizes risk and compliance issues using simple and powerful RAG (red-amber-green) and event tracking, and automates compliance by delegating and managing supplier and employee tasks to optimise valuable management time.
Most importantly, users can customize gatekeeper around their exact needs. They can create new fields aliened to how their companies work. Additionally, it has 6 more features that increment Gatekeeper's potential: seamless integration, multi-currency support, enterprise grade security, unlimited storage, powerful user management, and full searchable trail audit.
You may like to read: Top Contract Lifecycle Management Software, Top Free Contract Management Software and How to Select the Best Contract Lifecycle Management Software for Your Business