Fracht Uses Descartes to Streamline Complex International Operations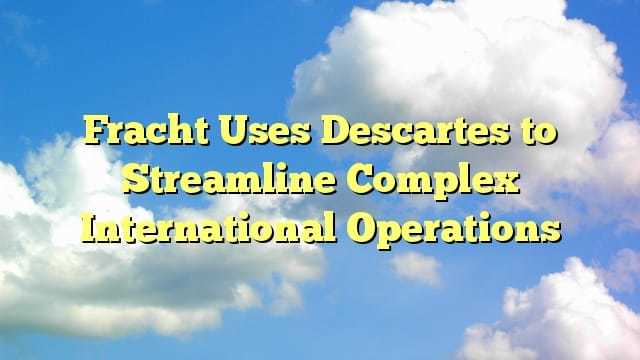 Fracht is streamlining international shipment management, customs clearance, and customer and carrier connectivity with the Descartes OneView™ solution suite and the Descartes Global Logistics Network (Descartes GLN)."We strive to deliver innovative, tailor-made logistics solutions that add business value for our growing worldwide customer base," said Armin Frey, VP IT, Sales and Marketing at Fracht. "Descartes provides the integrated technology platform and domain expertise to help us simplify and better manage shipment and compliance processes. We're more productive because we've automated the data exchange between us, our customers, and the air and ocean carriers we use. Today, all parties benefit from the seamless flow of information, improved efficiency, and reduced opportunity for human error made possible by Descartes."
Descartes OneView Forwarder Enterprise helps logistics services providers, like Fracht, efficiently manage complex transportation and financial processes for inbound and outbound shipments across modes. Combined with the Descartes OneView™ Customs House Brokerage solution, customers can also manage customs entries and electronic cargo security filings to U.S. Customs and Border Protection (CBP). The Descartes GLN is an industry standard for multimodal, inter-enterprise electronic data and document exchange, and provides users with connectivity to customers, trading partners and transportation carriers.
"We're pleased to help Fracht keep its customers' goods moving across borders as efficiently and cost effectively as possible." said George Manolis, Vice President of OneView Operations at Descartes Systems Group. "With Descartes, freight forwarders, customs brokers and other logistics intermediaries can run smarter operations with integrated modular solutions and real-time information exchange across the entire shipment lifecycle through a single interface."
With a global network of more than 300 offices, Fracht USA provides full logistics and transportation services for multiple industries with domestic and international operations be it by road, air, sea, or rail. From small projects requiring fast and simple industrial transport solutions to larger logistic projects requiring sophisticated preparation and careful implementation, Fracht USA offers the most-efficient and competitive transport solutions worldwide.
Descartes is the global leader in providing on-demand, software-as-a-service solutions focused on improving the productivity, performance and security of logistics-intensive businesses. Customers use our modular, software-as-a-service solutions to route, schedule, track and measure delivery resources; plan, allocate and execute shipments; rate, audit and pay transportation invoices; access global trade data; file customs and security documents for imports and exports; and complete numerous other logistics processes by participating in the world's largest, collaborative multimodal logistics community.