Review
Flywheel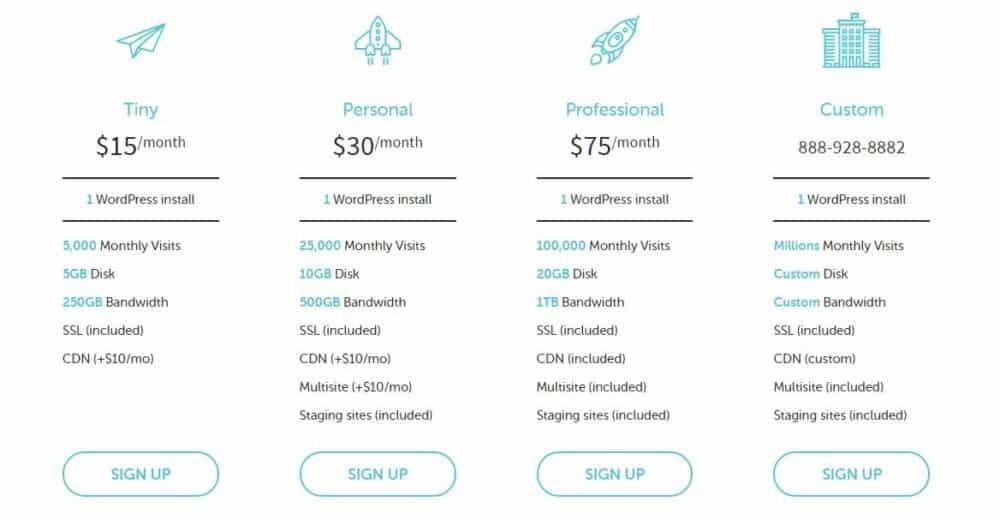 Overview
Flywheel's incredibly reliable WordPress hosting as a part of your agency's services.Flywheel program makes it a breeze for you to maintain your client's websites without worrying about server management, WordPress updates, or hacking headaches.
•Tuned for wordpress
•Blazing fast speeds
•Nightly backups
•Collaboration
•Staging sites
•Simple dashboard
•Pay-per-site $15/mo
•Bulk plans $100/mo
Small (<50 employees), Medium (50 to 1000 Enterprise (>1001 employees)
What is best?
•Tuned for wordpress
•Blazing fast speeds
•Nightly backups
•Collaboration
•Staging sites
Flywheel offers powerful tools and rock-solid hosting for WordPress. It is designed from the ground-up to support and enhance the workflow of web designers. Collaborate easily and instantly with the team without the clunkiness of sharing and storing (and losing and recovering) passwords. Never ask a client for a password again.
Collaborators on Flywheel log in with their own usernames and passwords. They can view and manage all their sites in one place. Add teammates and clients as collaborators, and they'll get full access to manage the site, update files, and manage the database.
With just one login, users can manage all their sites, upload files via SFTP, and modify databases. With Flywheel's Organizations, all of the team's sites are on a single dashboard, and everyone on the team has access to create sites, push a site to production, or request billing.
Users will also be able to gain insights into the progress the team is making in real time. It's a powerful tool that will simplify the team's workflow and allow the users to keep an eye on what is and isn't getting done. With Flywheel, gain valuable insight into what the team is working on. Easily see who's creating sites, pushing changes to production or going live with that new site.
Finally, see the big picture as the business progress through client work. On the other hand, Flywheel's Slack integration provides real-time updates about the things that matter most. From site-specific warnings to alerts about new features, it will send the users a nifty little notification about the status of their Organization's sites. Lastly, Demo sites on Flywheel enable users to create production-ready sites quickly to use for development and for showcasing new sites to clients. These sites are totally free and are password protected until they're paid for and ready to go live.