Fliptop Predictive Platform for Account-Based Marketing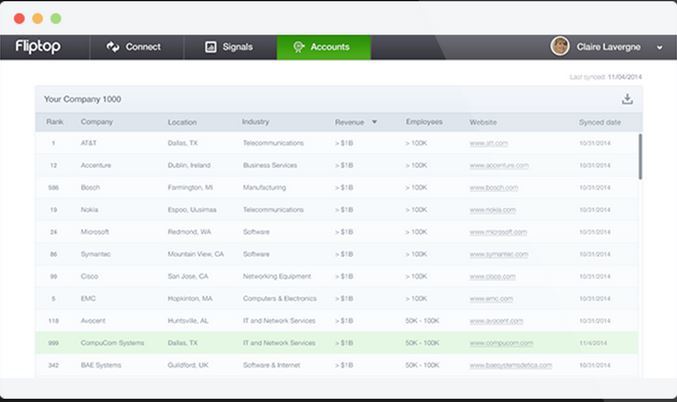 Fliptop Predictive Platform for Account-Based Marketing : Fliptop revealed a predictive account-based marketing solution, to automatically builds and maintains a list of target accounts for B2B marketing and sales teams. Using Fliptop, marketing can direct account based advertising efforts at exactly the right accounts, and sales can direct outbound efforts and make account assignments with greater speed and precision.
Account-based marketing (ABM) is a strategy where organizations engage with prospects and existing customers as a "market of one," in an effort to increase the lifetime value of each customer. This approach is being adopted at a much larger scale than ever before, and is on its way to becoming one of the biggest revenue drivers for B2B businesses. However it is still cumbersome for companies employing ABM to generate and maintain a list of accounts they want to go after. This is where Fliptop steps in.
Fliptop's new application connects with Salesforce, automatically builds a custom predictive model and generates the "YourCompany 1000" - a prioritized list of companies that match the profiles of your ideal customer, but are not yet customers. That list can be viewed in Fliptop's web interface, or exported to Excel or Salesforce.
"Customers are looking to transform how they sell using predictive technologies. Fliptop's new offering brings predictive capabilities to Account-Based Marketing, and we're excited for this innovation to be available to our customers via the AppExchange." Said Jim Sinai, Senior Director of AppExchange & Platform Marketing.
"Fliptop has taken a process that is currently very manual, time-consuming and error-prone and turned it into an automated SaaS application," said Doug Camplejohn, CEO of Fliptop. "The application is the latest to join Fliptop's suite of Predictive Applications that help B2B companies use data science to achieve measureable sales and marketing lift."
"We're seeing a sharp increase in interest from our clients around Account-Based Marketing (ABM)," stated Matt Senatore, Research Director at SiriusDecisions. "By focusing marketing efforts towards specific target accounts, ABM can produce significant revenue- and relationship-based benefits for companies."
Companies can use Fliptop's new Predictive Account-based Marketing application to build targeted account lists for their sales team, and power B2B advertising platforms, like Bizo, Demandbase, BlueKai, and LinkedIn, reaching target account prospects across web, email, mobile and advertising channels. Fliptop's applications use data science to help companies close more sales. The software leverages public web and internal application data in order to generate meaningful sales and marketing lift.