Review
First Bayes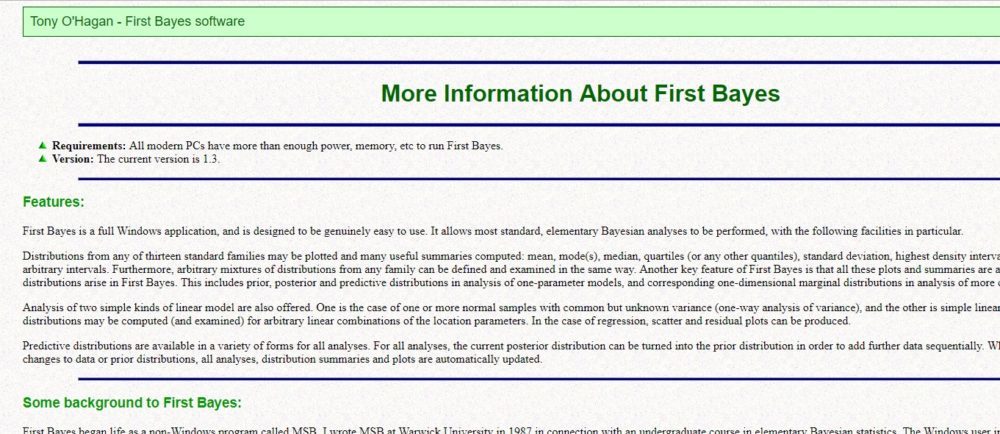 Overview
First Bayes is a teaching package for elementary Bayesian Statistics. It runs on IBM-PC compatibles under MS-Windows
Statistical Software Free
• Predictive distributions
• Analysis of two sample kinds of linear models
• Plotting of distributions from the thirteen standard families
Small (<50 employees), Medium (50 to 1000 Enterprise (>1001 employees)
What is best?
• Predictive distributions
• Analysis of two sample kinds of linear models
• Plotting of distributions from the thirteen standard families
First Bayes is a software package used for teaching elementary Bayesian Statistics. First Bayes simply provides an aid to learning Bayesian Statistics together with suitable reading. It is majorly a Windows application and is configured to be easy to use and allow most standard, elementary and Bayesian analyses to be performed.
First Bayes runs on IBM-PC compatibles under MS-Windows. First Bayes is an open software therefore anyone interested in learning Bayesian Statistics can easily access it provided it is not used for gaining profit. First Bayes comes in three different forms. The first form is available for the Windows Vista. This form is the most easily installed and can run under Windows 7. The second form is available for the Windows 95, NT, 98, XP and 2000.
The third form is available for the old windows 3.1 or 3.1. First Bayes allows users to plot many useful summaries from the distribution of the thirteen families. They include mode(s), mean, quartiles, standard deviation, probabilities of arbitrary intervals and the highest density intervals.
The arbitrary mixtures of distributions from any of the available families can also be defined and examined in the same way by First Bayes. All the plots from the distribution families and summaries are available anytime such distributions arise in First Bayes. First Bayes also offers analysis of two sample kinds of linear model. The first kind is the normal samples with a common but unknown variance.
The second kind is the simple linear regression. The predictive distributions offered by First Bayes are available in a variety of forms of all analyses.