Features of Global Trade Services and 8 Must Haves in GTS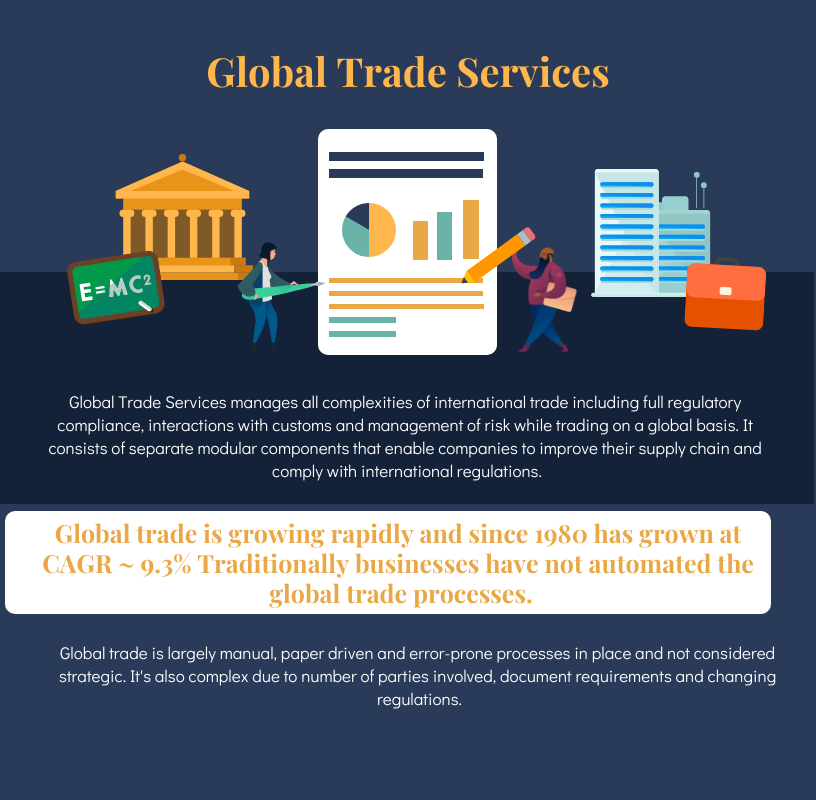 Global Trade Services manages all complexities of international trade including full regulatory compliance, interactions with customs and management of risk while trading on a global basis. It consists of separate modular components that enable companies to improve their supply chain and comply with international regulations.
Global trade is growing rapidly and since 1980 has grown at CAGR ~ 9.3% Traditionally businesses have not automated the global trade processes.
Global trade is largely manual, paper driven and error-prone processes in place and not considered strategic. It's also complex due to number of parties involved, document requirements and changing regulations.
What are the features of Global Trade Services?
Compliance Management ensure International Trade Compliance
Sanctioned Party List Screening
Avoid doing business with denied parties
Interface to external data providers
Comprehensive screening against multiple lists, all business partner
Phonetic and linguistic checks
In every process step – order to cash, purchase to pay
Checks include one-time customers as well as address changes in documents
The sensitivity of checks is adjustable to specific business needs
Import/ Export Control
Ensure vigilant compliance with trade regulations
Check and manage import and export licenses
Check for embargoes
Automatic track both quantity and value depreciation with an import/ export license
Simulation capabilities
Customs Management expedites Customs Clearance Process
Product Classification
Maintain classification – HTS, ECCN on global product master
Text based search capabilities with intelligent (phonetic) proposal allowing a user to look up HTS numbers by keywords or phonetics
Duty Calculation
Calculation of duty of imported merchandise at time of customs entry
Calculation of transaction value, deductive value and computed value
Can handle assists, commissions, packing costs, and royalties
Handles exclusions and limitations such as freight charges
Trade Documentation Service
Enhanced set of pre-delivered forms like Commercial invoices, Entry summaries and Certificates of origin
Extensible to web for broker/forwarder retrieval
Customs Communication Service
Facilitate electronic communication with customs authorities/ trade systems - such as NCTS and AES
Allow for multiple transmission methods such as EDI, XML, etc.
Risk Management leveraging Trade Agreements and Subsidies is Business-Critical
Trade Preference Processing
Improve competitiveness (via reduced duty rates) by leveraging trade preference agreements
Comply with the regional trade agreements e.g. NAFTA
Eliminate risks of fines by providing documentation (e.g. cert. of origin) and audit trail to authorities
Automation of complex preference processes enables accurate preference calculation and determination
Preference Processing Restitution Handling
Restitution Handling
Claiming refunds for export of CAP products (common agricultural products) out of the EU
Automation of complex process with capabilities to assign securities, manage export licenses, maintain recipes and calculate and apply for refunds
What are the 8 Must Have features of Global Trade Services?
Compliment & leverage your ERP investment
Ease of integration for short implementation
Accountability requires centralized approach and you keep control & visibility of entire process
Short ROI of less then 12 months
Global GTM solution provider
Intelligent content vs. amount of content (fluid)
One Global Content Repository… not multiple
Contributes value and efficiencies to other areas of the org.