Review
FatCow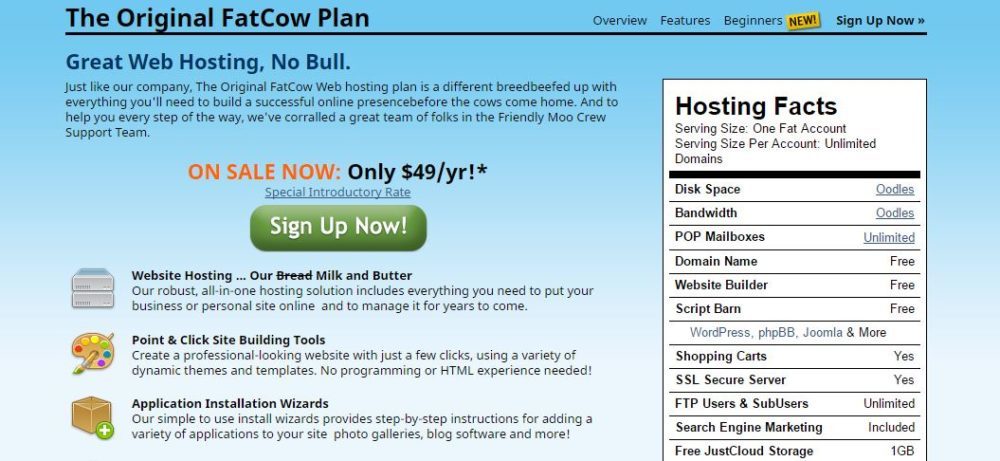 Overview
The Original FatCow Web hosting plan is a different breed beefed up with everything you'll need to build a successful online presence before the cows come home.
•Core Hosting Plan
•Customized Control Panel
•Pre-Installed Themes & Plugins
•Enhanced Security
•FREE domain name
•Unlimited mailboxes
•WordPress Hosting
•WP Starter $3.75/mo
•WP Essential $6.95/mo
•Web Hosting $49/yr
Small (<50 employees), Medium (50 to 1000 Enterprise (>1001 employees)
What is best?
•Core Hosting Plan
•Customized Control Panel
•Pre-Installed Themes & Plugins
•Enhanced Security
FatCow offers a robust, all-in-one hosting solution that includes everything a company need to put their business or personal site online and to manage it for years to come.
FatCow lets its users create a professional-looking website with just a few clicks, using a variety of dynamic themes and templates. It does not require any programming or HTML skills for the users as well. Its simple to use install wizards provides step-by-step instructions for adding a variety of applications to the user's website, photo galleries, blog software and more.
It also offers a variety of tools to help their customers sell online which includes shopping carts, catalogs with coupon and sales options, PayPal integration and even accept credit card payments online.FatCow provides a customized email address (you@yourdomain.com) to enhance user's professional image and be able to access them anywhere.
Be able to reach new customers and grow the business using FatCow's marketing tools and search engine advertising, including Google and Bing. In addition to its web hosting features, users will also get 1GB of cloud storage for all of the documents, photos, music and videos stored on their computer, giving them access from anywhere, at anytime, from any device.
FatCow's solid and secure network infrastructure is comprised of a pooled server environment, which gives virtually any server on its network the ability to access Web site files when a request occurs. This means that the first machine available will be the one to serve a customer's Web pages, giving its customer sites faster loading times and fewer service interruptions than traditional hosting infrastructures.