Review
ezFlow Workflows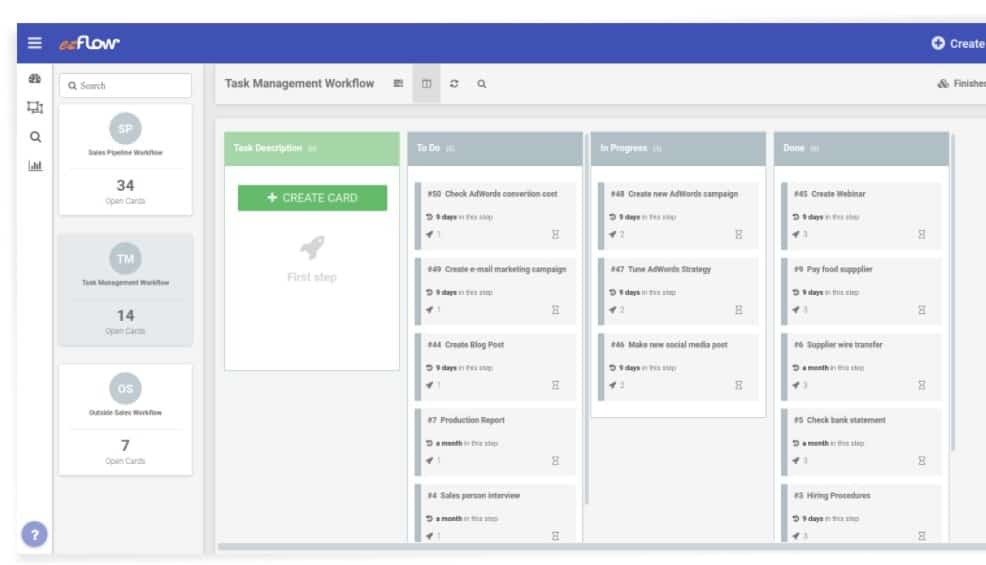 Overview
With ezFlow all the workflow's steps are set and clearly defined and no actions are left behind. There are free workflows templates available which can be used to customize for own needs.
Workflow Automation Software
• Pipeline view
• Flowchart design
• Workflow Cards
• Analytics
• Search
• Templates
• Free
• Gold - USD$ 9.90 / month / user
Small (<50 employees), Medium (50 to 1000 Enterprise (>1001 employees)
What is best?
• Pipeline view
• Flowchart design
• Process based collaborative environment
• See your workflow's bottlenecks and hidden activities with clarity
• Templates
What are the benefits?
• Intuitive, easy to use tool for managing workflows
• Workflow Cards
• Control your processes, real opportunities
ezFlow workflows is a tool that allows the user to easily draw workflows, grant permissions and start using it, fast and simple with workflow templates, like innovation management, sales pipeline, task management and project management to help automate the workflows in just a few minutes with no technical skills necessary and constantly improved to enhance user experience.
ezFlow workflows has features such as graphical workflow editor, help desk management, project management, resource management, approval process control, compliance management, configurable workflow, customizable dashboard, document management and event monitoring.
ezFlow workflows has design workflows tool with drag and drop, dynamic form fields for each step of the workflows and simple and very functional dashboard. ezFlow workflows' pipeline view is an easy, intuitive and crystal clear workflow pipeline which is a fully customizable workflow process to easily check workflow situation and to use for all king of workflows.
ezFlow workflows' main flowchart design is a natural flowchart designer to add data, permissions, notifications and deadlines. ezFlow workflows' cards is the representation of the user's data, chat, checklist, card history and actions. ezFlow workflows' analytics consists of cards created by day, time spent by step, actions by step, actions by user and time spent by user.
ezFlow workflows' search features search by date and search by fields filters. ezFlow workflow templates boasts features such as sales pipeline workflow, outside sales workflow, innovation management workflow, incident management workflow, nonconformity report workflow, PDCA workflow, project management workflow, project lifecycle workflow, invoice approval workflow and problem management workflow for sales, productivity, quality, HR, IT/Software and accounting.
You may like to read: Top Free, Premium & Open Source Workflow Automation Software and How to Select the Best Workflow Automation Software for Your Business