Review
EViews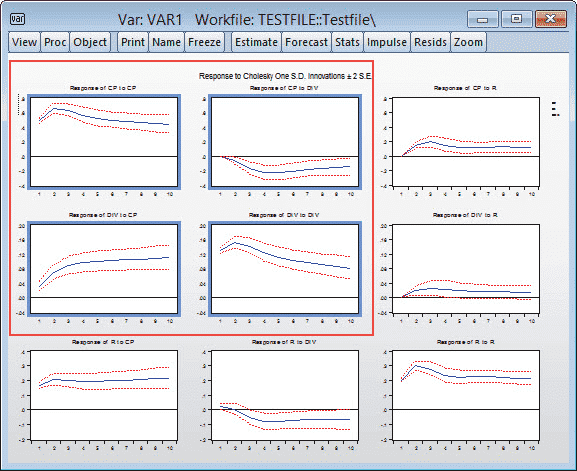 Overview
EViews workfiles natively support easy organization of mixed frequency data, and allow easy conversion from one frequency to another.
•Database Support (Read/Write)
•EViews Programs
•User Defined Objects
•Model Equation Limits
•Third party data vendor
•Commercial - New License
•Single-User License
•Standard $1,425
•Enterprise $1,825
•Academic - New License
•Single-User License
•Enterprise $550
Small (<50 employees), Medium (50 to 1000 Enterprise (>1001 employees)
What is best?
•Database Support (Read/Write)
•EViews Programs
•User Defined Objects
•Model Equation Limits
•Third party data vendor
What are the benefits?
• Enables testing and evaluation of data
• Comes with external interface
• Useful commands and programming
• Graphs and tables
• Handles time series data
EViews offers academic researchers, corporations, government agencies, and students access to powerful statistical, forecasting, and modeling tools through an innovative, easy-to-use object-oriented interface.
With EViews, users can quickly and efficiently manage their data, perform econometric and statistical analysis, generate forecasts or model simulations, and produce high quality graphs and tables for publication or inclusion in other applications.EViews uses innovative graphical object-oriented user-interface and a sophisticated analysis engine. It blends the best of modern software technology with the features that most companies are looking for.
This gives them results that are state-of-the art program which offers unprecedented power within a flexible, easy-to-use interface.Its intuitive and easy to use interface features multiple window displays which provide its users simultaneous display of multiple objects. EViews true multiple window support makes it easy to perform side-by-side comparisons of series plots, hypothesis tests, equation estimates, or model forecasts developed under alternative assumptions.
EViews incorporates the best of modern spreadsheet and relational database technology into tools for performing the traditional tasks of statistical software.
The EViews object-based approach includes sophisticated linking technology that allows you to define relationships between multiple objects and external data sources. It also offers an easy-to-use EViews Add-ins infrastructure that provides seamless access to user-defined programs using the standard EViews command, menu, and object interface.
EViews supports a wide range of basic statistical analyses, encompassing everything from simple descriptive statistics to parametric and nonparametric hypothesis tests. Users can visualize the distribution of the company's data using histograms, theoretical distribution, kernel density, or cumulative distribution, survivor and quantile plots.