Review
eSUB Subcontractor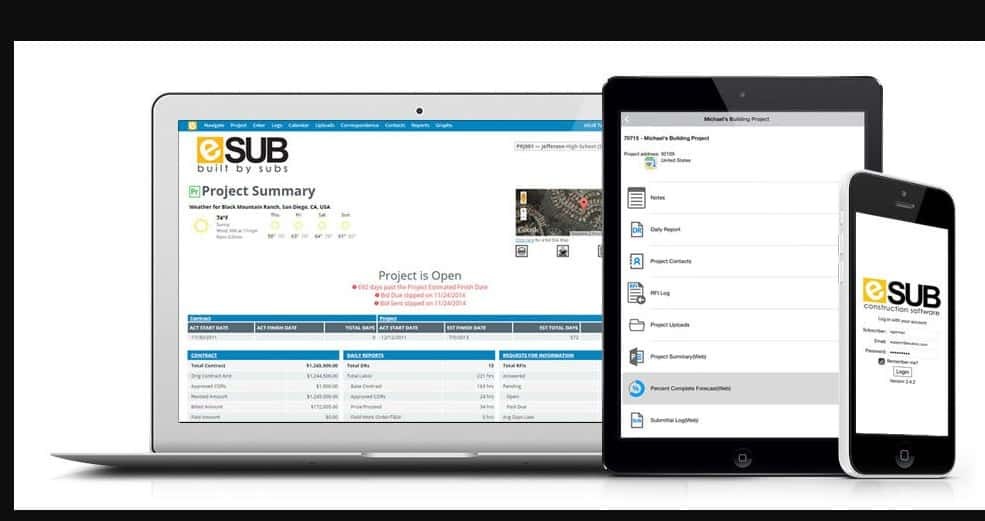 Overview
eSUB cloud-based construction software provides your team with the tools and information they need to track every project detail directly from the field. Complete RFIs, get up-to-date information for submittals, and finalize change orders with documented approval.
Construction Project Management Software
• Project Management
• Time Card Management
• Corporate Management
• Resource Management
• Field Works Mobile App
• Scheduling
Small (<50 employees), Medium (50 to 1000 Enterprise (>1001 employees)
What is best?
• Project Management
• Time Card Management
• Corporate Management
• Resource Management
• Field Works Mobile App
What are the benefits?
•Improves scalability for company growth
•Increases crew productivity
•Share the Knowledge
eSUB Scheduling software allows users to choose the assignment start time, finish time, or the percentage complete for individual assignments. This makes scheduling each specific task completely clear and easy to plan around..eSub combines critical path scheduling tools with the accessibility of cloud based technology, enabling real time updates while in the field or at the office.
Delays and lack of schedule coordination can lead to financial losses, but with eSUB Scheduling you can ensure that you get everyone on the same page.eSUB standardizes project management procedures so project managers can easily enter data, site events, labor activities, material costs, workforce information and more into a fully searchable database updated in real-time.
Best project management practices are built into the interface of our software based on 30 years' experience as construction consultants working to protect your profits. eSUB's Time Card Management Software allows your field crews and any employee to enter their time from any location including: the job site, office, or home. Our Time Card Management Software gives your business complete flexibility, especially since employees can enter their time from any device.Once time cards have been entered through your secure company portal, your company's back office accounting staff can log in to the same portal to review, edit, approve and upload time cards directly into your accounting software.
Administrative staff can also access the reports module of eSUB's Time Card Management Software to check on productivity levels, cost status through detailed summary reports and much more!eSUB's Corporate Management Module allows Project Managers, Executives and Power Users access to all of their projects in one single location for quick access and reporting.
The Corporate Management module allows users an interactive global overview of all their assigned projects, documents and tasks.eSUB's Resource Management module allows users to schedule employees and equipment with an easy to use drag-and-drop tool. Users can view all of their resources in one place.
Any changes made to the schedule update in real time, and users can print the resource information to easily see the location of equipment and duration of employee tasks. With the Resource Management module, users can easily allocate resources based on employee skill level, equipment availability, and overall project needs.
You may like to read: Top Construction Project Management Software and How to Select the Best Construction Project Management Software for Your Business