Review
Engine Yard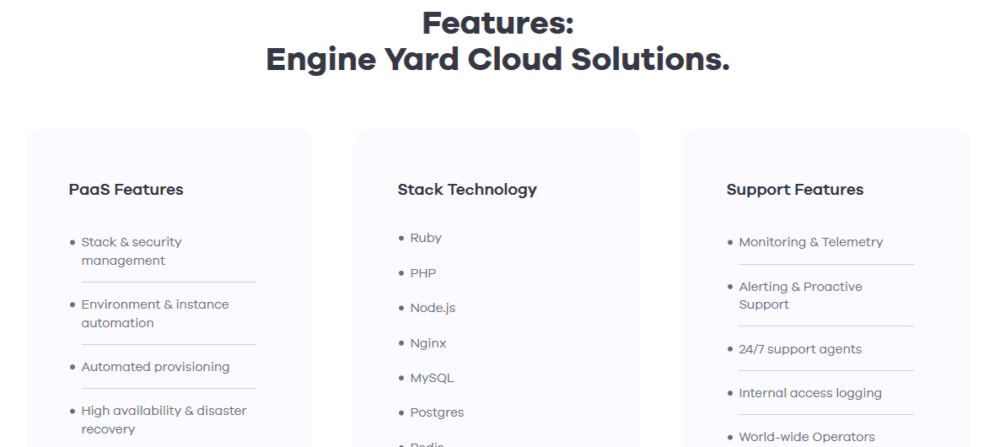 Overview
Engine Yard, is a cloud orchestration platforms, which gives application developers the automation, control and operational support they require to deploy apps for both Docker containers in public and private clouds, as well as traditional applications running on Amazon Web Services.
PaaS Features
Stack & security management
Environment & instance automation
Automated provisioning
High availability & disaster recovery
Dedicated tenancy
Platform independence
Runtime control
Automatic snapshot backup
CLI tools
Support Features
Monitoring & Telemetry
Alerting & Proactive Support
24/7 support agents
Internal access logging
World-wide Operators covering 3 blocks (US, EU, and APAC)
SOLO
$0.03
Hourly per instance
$25 monthly per instance
STANDARD
$0.20
Hourly per instance
$150 monthly per instance
PREMIUM
$0.40
Hourly per instance
$300 monthly per instance
Small (<50 employees), Medium (50 to 1000 Enterprise (>1001 employees)
Engine Yard is the leading cloud orchestration platform empowering developers and DevOps to provision, manage, monitor and control applications in the public and private cloud. The company gives our unmatched control and choice through a broad and trusted application cloud, coupled with expert support, enabling the customers to focus on creating great applications instead of managing their platform. Engine Yard provides network management and automatically configures all security group and firewalls. Engine Yard presents user access management. The environment management is also provided by Engine Yard which easily copies the entire environment for testing purposes. Engine Yard cloud receives updates for both currency and security patches. The customers can deploy application from a public or private git repo by using Engine Yard Dashboard and CLI tools. Customers can easily deploy applications to the cloud using the Engine Yard Platform. From smaller-scale web applications that run within a single compute instance, to production applications that require the elasticity, scalability and reliability of multiple instances running at "full-tilt", Engine Yard can scale with customer's needs. The Engine Yard solution leverages open source technologies to automate the configuration, deployment and management of applications on multiple infrastructures. Engine Yard provides SSO and security, API's for fine-grain control, infrastructure abstraction, and much more. Engine Yard platform components includes pre-integrated and pre-tested technology stacks for Ruby, PHP, node.js and Java applications. It also includes third party services from leading vendors and SaaS providers that provide additional application capabilities, such as application monitoring, email services, and continuous integration.