Election Tracker Big Data and Content Analytics with OpenText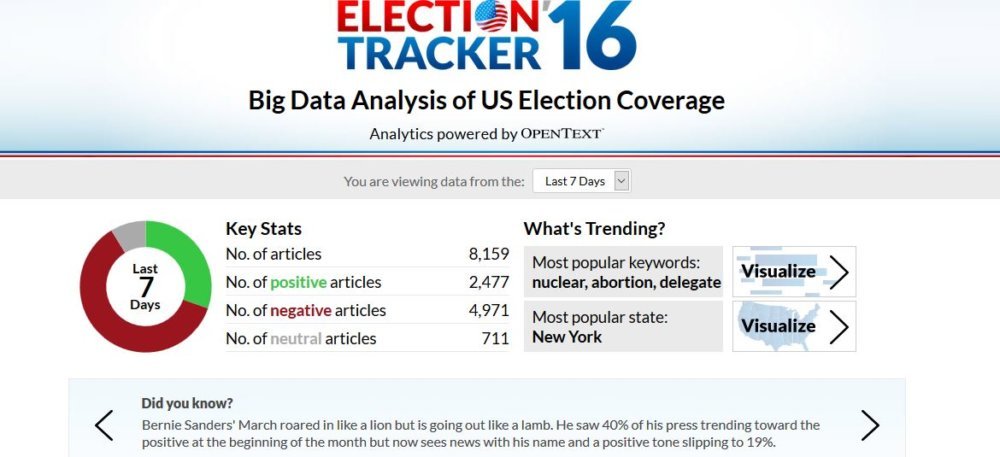 Election Tracker '16 allows users to visually monitor, compare, and analyze media coverage surrounding the 2016 U.S. Presidential Election coverage from the world's top online news publications and agencies. Individuals are encouraged to access the election tool at Electiontracker.us for a complete picture of the current media coverage of the U.S. Presidential election.
Election Tracker '16 curates text from thousands of online news articles and global media outlets, to create meaningful, visual, and highly interactive dashboards that summarize and compare coverage across news outlets, presidential candidates, hot topics, and tone. With Election Tracker '16, users can visualize election trends as they unfold in the news media. The interactive tool can also compare candidates based on mentions across topics, history, geography, or sentiment. The topics, which represent key election issues, are dynamically generated from the news coverage. Electiontracker.us was built using Process Suite, Content Suite and Analytics Suite Release 16.
"Analyzing both structured and unstructured data provides a full picture of any situation to enable smarter, data-driven business decisions," said Adam Howatson, chief marketing officer at OpenText. "Election Tracker '16 evaluates election news coverage, using the articles themselves as a source of unstructured data. OpenText technology actually analyzes the content of the unstructured data, much in the way a human would, only much faster and with a perfect memory and better aggregate insight over massive volumes. Election Tracker '16 is a working example of unstructured data analysis in action and showcases its ability to provide a solution to an increasingly common business concern across all industries."
Election Tracker '16 is a prime example that demonstrates the power and importance of unstructured data analysis. While many databases and data visualization tools are available, most only deal with the structured data in an organization. However, as the amount of unstructured data contains far greater insight and context, organizations are facing a fundamental challenge. With OpenText, organizations can access and harvest data from any unstructured source, including documents, web sites, social sites (Twitter, Facebook, LinkedIn), email, document archives (PDF), RSS feeds and blogs – even EIM, ECM, CRM and other core Enterprise systems. These sources can then be combined with structured data to provide a complete picture of the organization and valuable context including customer sentiment, discussion, brand coverage, media and internet trends or anything you can imagine.
Most pure-play text analytics solutions on the market today do not create a full analysis. They are limited to translating free text to entities and taxonomies, leaving the actual visualization and analysis to other technologies. Election Tracker '16 combines the power of content analytics with data analytics by leveraging OpenText InfoFusion to process the content and OpenText Analytics Information Hub to provide dynamic, secure, and scalable visualization of the data.
OpenText InfoFusion provides standard taxonomies for classifying and extracting meta-data from raw text, assessing its sentiment, and extracting entities such as places, people, organizations, trademarks, products or election issues. Using OpenText Analytics Suite - Information Hub, customer are able to represent the data in any visual format required, offering a huge palette of out-of-the-box charts, graphs and maps for effective data visualization. Specializing in custom visualization, Information Hub can create visuals such as word clouds, treemaps and heatmaps and delivers them as HTML, PDF, Excel, Word, PowerPoint and more. All the information is stored and secured in OpenText Content Suite.