Review
Edraw Max Pro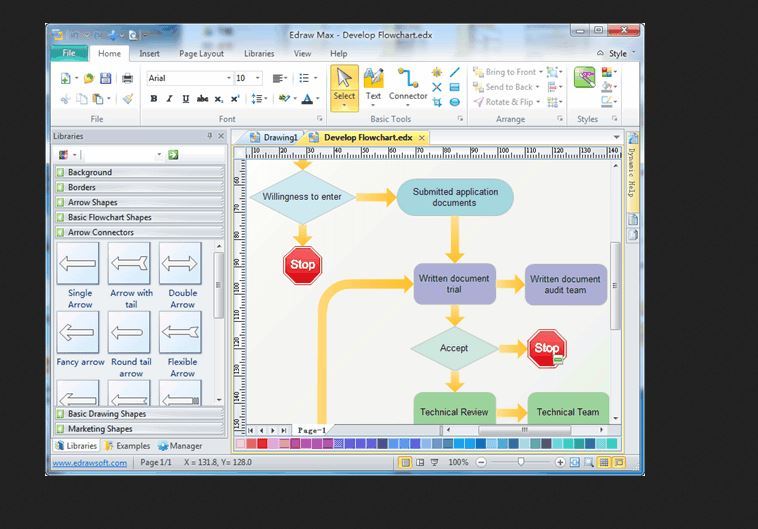 Overview
Edraw Max creates professional-looking flowcharts, organizational charts, mind maps, but also network diagrams, floor plans, workflows, fashion designs, UML diagrams, electrical diagrams, P&ID design, science illustration, charts and graphs.
Business Process Management Software
Flowchart Software
Organizational Chart Software
Diagram Software
Floor Plan
Mind Map Maker
Network Diagram Software
Wireframe
Project Management Software
Chart Maker
Process Flow Diagram
Electrical Diagram
Visio Alternative
More Diagram Software
Edraw Max Pro
Perpetual License - $179
Lifetime License - $245
Subscription License - $99
Academia Discount :
Perpetual License - $125.30
Lifetime License - $171.50
Subsription License- $69.30
Small (<50 employees), Medium (50 to 1000 Enterprise (>1001 employees)
Edraw Max is an all-in-one diagram software which help create flowcharts, organizational charts, mind map, network diagrams, floor plans, workflow diagrams, business charts, and engineering diagrams.
It simplifies the creation of over 200 types of diagrams including those for business presentations, building plans, science illustration, fashion designs, UML diagrams, wireframes, electrical diagrams, directional maps, database diagrams and a lot more.Edraw Max Pro is reliable and powerful cross-platform diagram software with rich gallery of examples and templates. This is compatible with Linux, Mac and Windows.
A single license allows for cross-platform installation. As the file format is the same with Mac, Windows and Linux, it is easy to share files freely among platforms with Edraw cloud sync. It is designed to work best on a personal computer or server that meets these minimum system requirements.
Edraw is a powerful but easy-to-use organizational chart software which makes it easy to create professional-looking basic organizational chart, functional organizational chart, matrix organizational chart, divisional organizational chart and photo organizational chart. Use Edraw. Use it to make your organizational charts feast for audience's eyes. Make yourself understood instantly.
Edraw Max lets you create graphics and diagrams to suit all of these requirements and much more. It will completely eliminate the root cause of diagramming conflict. Its usage covers a wide range of fields. It can produce any kind of diagrams ranging from flowcharts, mind maps, floor plans to doughnut charts and many more. From Edraw Max, one can export any graphic format, Word, PowerPoint, PDF, SHV or EPS with full WYSIWYG support or share with others the same files. The user can even link diagrams to underlying data on an even more detailed information to its audience.
You may like to read: Top Open Source and Free BPM Tools and How to Select the Best Business Process Management (BPM) Software for Your Business