Review
eDepreciation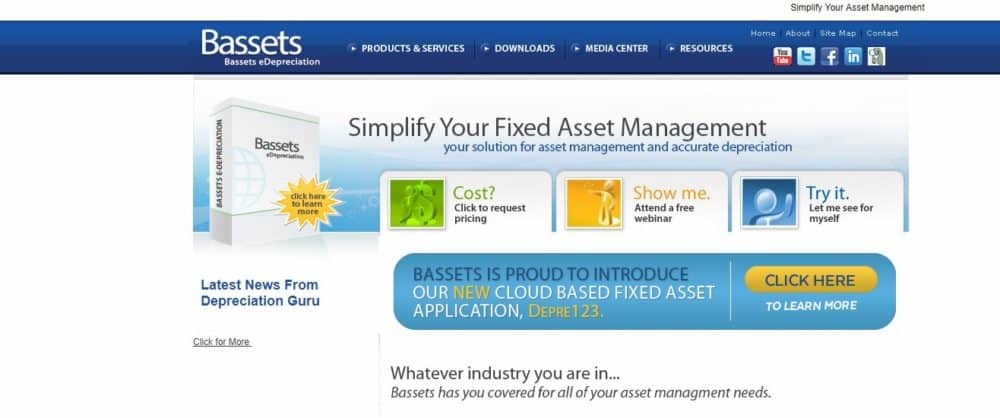 Overview
Manage your business assets, control your costs, maximize tax savings and meet all your reporting requirements. Bassets eDepreciation, the on-premises solution, is available in four different versions: eDepreciation Compact Edition, eDepreciation WorkGroup, eDepreciation Standard and eDepreciation Enterprise
Fixed Asset Management Software
• Asset Maintenance
• Data Import
• Data Export
• Multiple Client
Small (<50 employees), Medium (50 to 1000 employees), Enterprise (>1001 employees)
What is best?
• Asset Maintenance
• Data Import
• Data Export
• Multiple Client
What are the benefits?
• Simplify Your Fixed Asset Management
• Fixed Asset Depreciation Methods
• Calculate Fixed Asset Depreciation for any Period
• Additional Fixed Asset Calculations
• Eliminate Hidden Costs
Bassets eDepreciation enables users to manage business assets, control costs, maximize tax savings and meet all reporting requirements. Bassets eDepreciation is an on-premises solution which is available in four different versions: eDepreciation Compact Edition, eDepreciation WorkGroup, eDepreciation Standard and eDepreciation Enterprise.
The core functionality is consistent throughout each version with the key difference being the number of assets supported. All versions operate with the Microsoft SQL database as their engine. Bassets eDepreciation is scalable from hundreds to hundreds of thousands of fixed asset records. The Bassets eDepreciation has a Fixed Asset System which allows users to simplify fixed asset management.
The Bassets Fixed Asset System highlights include a flexible data conversion from fixed asset spreadsheets and other commercial fixed asset management software packages, an intelligent fixed asset data entry with automatic validation of fixed asset depreciation schedule information, an ability to dynamically calculate fixed asset depreciation "on-the-fly" for historical, present and future periods, over 20 standard reports where each one is sortable and / or filterable, an easily interface fixed asset data with General Ledger Accounting software with a powerful depreciation export and a choice of three "landing pages" when entering the application, improving the user's productivity.
eDepreciation also supports SQL Report writing for customizable reports. Bassets eDepreciation calculates monthly depreciation for the entire life of an asset. Bassets eDepreciation supports Real, Personal and Luxury Automobile property types to accurately calculate the correct depreciation amounts. Bassets eDepreciation pricing is based on the number of assets being tracked, the number of named users, and any optional modules the user's organization may need.
You may like to read: Top Fixed Asset Management Software and How to Select the Best Fixed Asset Management Software for Your Business