Review
Dydacomp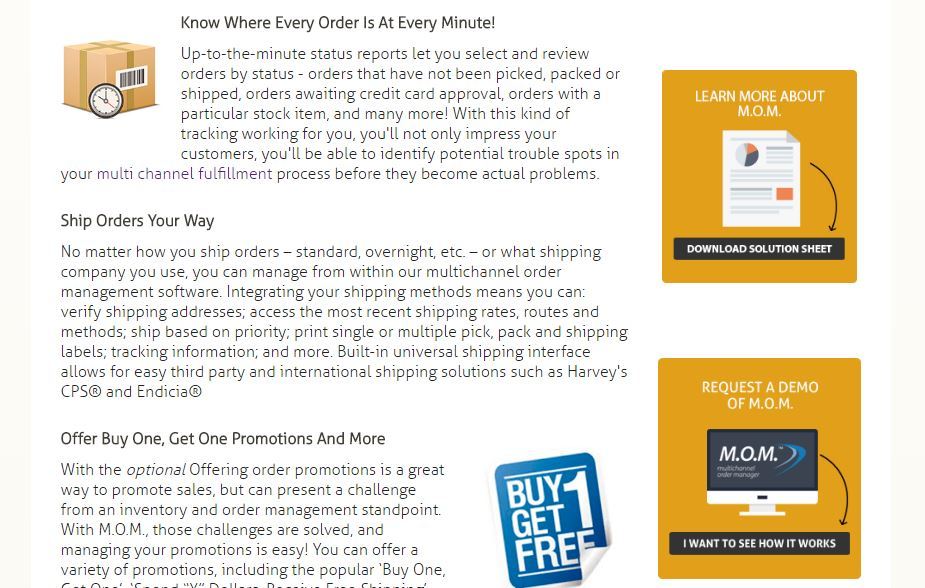 Overview
Multichannel Order Manager (M.O.M.) is the leading PCI compliant inventory, order and customer management software solution for small and mid-sized eCommerce, multi channel and distribution businesses.
Distributed Order Management Software
Online Order Management
Inventory Management
Customer Management
Purchase Order Management
Business Intelligence
Shipping & Drop Shipping
Dynamic Continuity
Accounting
Multichannel
Small (<50 employees), Medium (50 to 1000 Enterprise (>1001 employees)
FreestyleSolutions (formerly Dydacomp) is Cloud-Based Order Management System. Users can streamline their inventory management and order processing workflows by unifying orders coming from their sales channels into a single stream to expedite pick, pack and ship processes.Keeping all customer order history, ship-to addresses, and more from all sales channels in one customer order management system provides user's customer service reps with the tools to service customers better. Comprehensive customer management capabilities provide an accurate view of all customer transactions and interactions, enabling a seamless customer experience across channels, including online, stores and call centers. Freestyle O.M.S. allows creating customer groups, as well as applying different price tiers associated within each group.FreestyleSolutions's online purchase order management system allows to streamline online commerce business. In Freestyle's purchase order management system, users can automatically include the correct 'buying level' pricing on each purchase order, so they always have an accurate understanding of how much the product is actually costing them.Freestyle is equipped with real-time business intelligence tools and dashboards to help user make smart decisions. All information is based on a time frame specified by users, with the ability to view and analyze it however they want. With advanced reporting, they can pool all information together or separate it out by channel, product, etc., whatever suits their needs. Real-time dashboards provide insight into which products are selling and how various sales channels are performing.With fully integrated shipping functionality, users can verify addresses, print shipping labels, access tracking information and more. And with built-in supplier management, they can manage their drop ship items with ease.Also, users can sync all transactional data from invoices, purchase orders, as well as creating new, or appending information to existing, customer records.
Dydacomp