Duke Athletics uses SAP HANA for Fan Engagement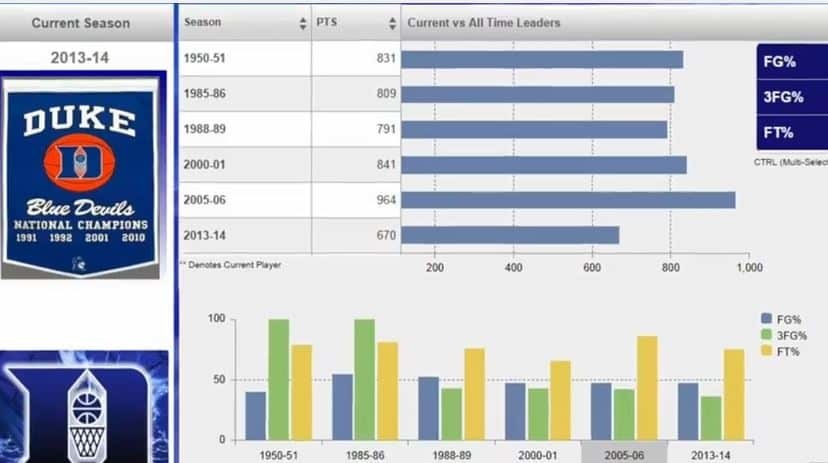 Duke Athletics uses SAP HANA for Fan Engagement with Blue Devil Basketball Data : Duke Athletics uses SAP HANA platform and NTT DATA's Analytics experts to help it take Men's Basketball data to the next level. They are launching one of the most intuitive and powerful data visualization tools in college sports history by using the historical player and team data. These will be brought to life for Blue Devil Fans around the world through a simple and elegant Web and mobile interface.
MBA students at Duke University's Fuqua School of Business, in cooperation with SAP and NTT DATA, have developed a groundbreaking visual web application that enables Blue Devil Fans from around the world to interact with the team's historical record books. The powerful in-memory capabilities of SAP HANA allow for the tool to draw almost instantly on decades of Duke Basketball tradition and perhaps the most complete archive of historical team data in college sports today dating back to the 1930s.
Duke Athletics will pioneer version 1.0 of this innovative solution as part of a multi-phase project designed to develop a tool that is "by Duke Fans, for Duke Fans." Insights are also intended to benefit sports media by empowering them to deliver a better-informed commentary.
The phase 1 offers visually compare team performance year over year, identify current or past players and view detailed statistics, compare individual players by position based on key statistics and consume visual statistics on iPhone/iPad.
"We always have and always will look to be a leader in the digital space because that's what our student-athletes and fans deserve," said Ryan Craig, director of Digital Media for Duke Athletics. "We're looking forward to providing the greater Duke community with the ability to engage in our history and tradition like never before."